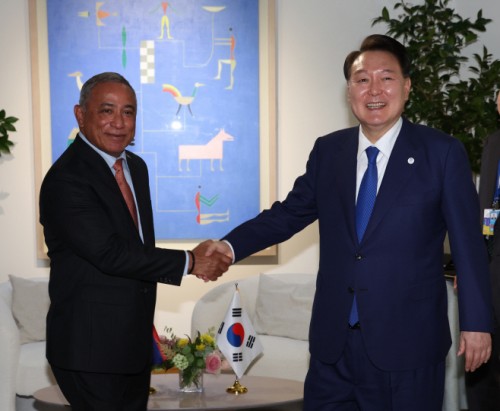 South Korean President Yoon Suk-yeol shakes hands with Belizean Prime Minister John Antonio Briceno prior to their talks in New York on Sept. 19, 2023, on the sidelines of the U.N. General Assembly./ Source: Yonhap News
AsiaToday reporter Hong Sun-mi
President Yoon Suk-yeol held a second day of summits with world leaders in New York on Tuesday as he continued to rally support for South Korea's bid to host the 2030 World Expo in Busan.
Yoon, who held summits with the leaders of nine nations after arriving in New York the previous day, had eight more one-on-one meetings on the sidelines of the U.N. General Assembly. The presidential office believes Yoon's customized one-on-one meeting strategy is gradually increasing the probability of attracting the world expo in Busan. The South Korean president plans to meet with the leaders of more than 40 countries during his trip to the United States.
Yoon continued to hold one-on-one meetings with the leaders of the Ivory Coast, Ghana, Monaco, Suriname, Lesotho, Belize, Kazakhstan, and Uzbekistan.
At the bilateral talks, Yoon urged the world leaders that the World Expo Busan would not only provide the most competitive place for communication, but also become an all-round platform to build strategic partnerships to create customized investments, create jobs and foster future talents, according to the presidential office.
"The leaders in the bilateral talks sympathized with South Korea's ability and competitiveness to host the event," Principal Deputy National Security Adviser Kim Tae-hyo told reporters in a briefing.
"After two days of talks, I clearly think it was good to hold bilateral talks with many countries," a high-ranking official in the presidential office said.
The presidential office believes that the aggressive strategy of meeting countries as many as possible to present the cooperation points that counterpart countries want has worked positively to win support for Busan's expo bid.
Yoon proposed strengthening cooperation in the digital sector to the Prince of Monaco, while suggesting agricultural cooperation based on the Saemaul Movement to the Prime Minister of Lesotho. Yoon proposed the Presidents of Kazakhstan and Uzbekistan strengthening synergy between two countries' cutting-edge technologies and key minerals, respectively.
On the evening, Yoon and first lady Kim Keon-hee attended a reception hosted by US President Joe Biden and first lady Jill Biden. In a keynote speech at the U.N. General Assembly on Wednesday (local time), Yoon is expected to stress the illegality of military transactions between Russia and North Korea and urge the international community for joint response.