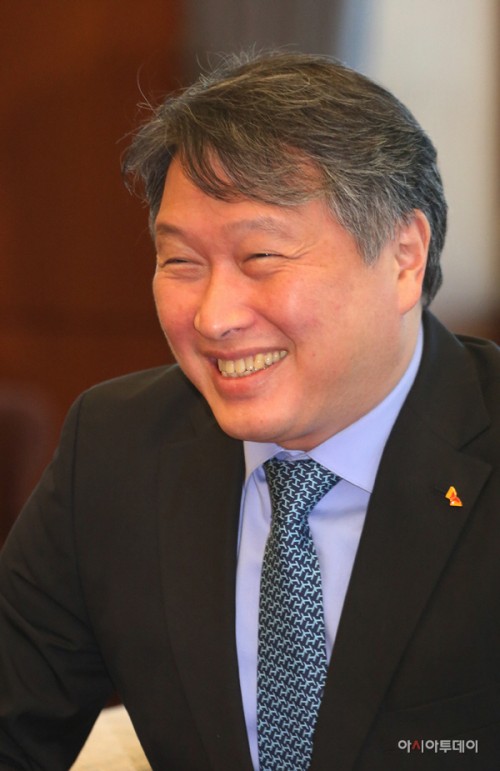 SK Group Chairman Chey Tae-won

By AsiaToday reporter Kim Min-soo
SK Group Chairman Chey Tae-won headed to Japan to soften the "Western Digital (WD) risk" directly. Opposed to an international consortium that includes SK Hynix, WD is seeking an injunction to block the sale of Toshiba Corp's chip unit.
Last April, Chey flew to Japan to express his strong commitment to Toshiba management about the deal. Industry observers are paying attention to whether his visit will lead to a final agreement of the South Korea-U.S.-Japan consortium.
According to industry insiders on Wednesday, Chey headed to Japan Wednesday via Gimpo Airport shortly after the board meeting of SK Hynix to wrap up the Toshiba deal. Chey was reportedly accompanied by SK Telecom CEO Park Jung-ho, who has been taking care of the Toshiba deal. SK Hynix discussed the issue of acquiring Toshiba's chip unit at the board meeting.
Toshiba decided to sell its memory chip unit to the South Korea-U.S.-Japan consortium on September 20 and has been in the process of making detailed arrangements for the final deal since then. However, the final contract is being delayed as another consortium that includes WD is aggressively seeking to take over Toshiba's memory business.
As the South Korea-U.S.-Japan consortium's Toshiba memory acquisition was coming closer, WD announced Wednesday that it will file an injunction to suspend Toshiba's sale to the International Court of Arbitration. Last May, WD lodged a complaint with the International Court of Arbitration to stop the sale of Toshiba's memory business. The latest legal action by WD comes following the expectation that the ruling will take about one or two years.
Toshiba aims to complete the sale of its chip unit by March 2018. WD's injunction is intended to block the sale process. According to foreign sources, the International Court of Arbitration will form an arbitration committee to mediate disputes between Toshiba and WD early next month.
According to Nihon Keizai Shimbun, WD is required to pay damages that Toshiba will suffer as a result to the court if its injunction is accepted. WD believes that the acceptance of its injunction will turn in favor of the company eventually.
Meanwhile, Chairman Chey will fly to the U.S. immediately after finishing his schedule in Japan to attend an annual gala dinner of the Korea Society at The Plaza in New York on Thursday.