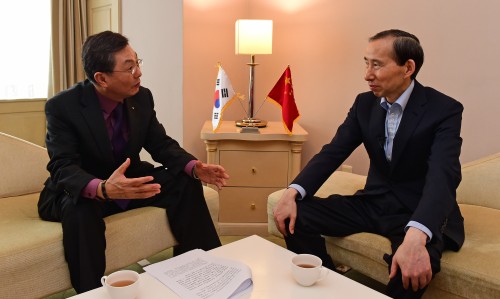 Asia Today president Woo Jong-soon (left) holds a special meeting on Oct. 12 with Executive Chairman Long Yuxiang of China International Cultural Communication Center (CICCC), who visited South Korea to attend the opening ceremony of the Busan International Film Festival, to seek out a solution to mend strained ties between China and South Korea./ Photographed by Song Ui-joo (songuijoo@)

By AsiaToday reporter Choi Tae-beom
Long Yuxiang, Executive Chairman of China International Cultural Communication Center (CICCC), has pledged to make efforts to remove China's recent ban on Korean drama series, movies, concerts, and other cultural content due to the political row over the deployment of the Terminal High Altitude Area Defense (THAAD) system.
Long, who visited Korea to attend the opening ceremony of the 22nd Busan International Film Festival, made such remarks during a special talk with Asia Today president Woo Jong-soon on October 12 in order to improve Seoul-Beijing relations.
In response to Woo's suggestion that the current Korean-Chinese relationship, which had been strained due the THAAD deployment issue, should be improved as quickly as possible by any means, Long said that he will start solving the issue with Korean drama series, movies, concerts, and other cultural contents.
Long has promoted the "Chinese Dream" and "One Belt, One Road" initiative of Chinese President Xi Jinping in private level and is virtually the one in charge of external affairs on behalf of the Chinese government.
Since the South Korean government decided to deploy the THAAD system in July 2016, the Korean Wave (Hallyu) cultural industry, which initiated the growth of Hallyu in China, has been seriously hurt. Korean dramas and movie screenings have been banned while concerts, cultural events and contracts have been all cancelled.
Hallyu producers and distributors at home and abroad are going bankrupt one after the other. In 2015, Hallyu exports to China were worth 2.3 trillion won, accounting for 30% of total exports. The prolonged frosty relations between Seoul and Beijing has given a huge blow to the Korean culture and industry as a whole.
Amid THAAD row between Seoul and Beijing, Long's strong commitment and pledge to withdraw the Chinese ban on Korean drama series, movies, concerts, and other cultural content is expected to be a crucial opportunity to smooth the strained ties between the two countries.
When Woo suggested, "Most of all, we need to start improving the Seoul-Beijing relations that have been frosty over THAAD with cultural exchanges in the private level," Long responded, "President Xi Jinping is putting a great emphasis on the Beijing-Seoul relations. We are doing a lot of projects in the fields of economy, trade, culture and politics."
When asked about his outlook about President Moon Jae-in's China visit and Seoul-Beijing summit, Long answered, "Xi Jinping's invitation to Moon Jae-in will have a huge historical significance."
"By nature, sometimes you get along with your neighbors and sometimes you don't. It's because they live next door. Communicating with each other and stepping back to live in peace is what we've always been looking for," he said. "I hope that we are able to maintain good relations through various private exchanges in economy, trade, culture and arts."
Although the relations between Beijing and Seoul have recently been strained over THAAD issue despite th 25th anniversary of ties, Long asked Asia Today, one of the leading newspapers in Asia, to act as a strong bridge between the two countries for private cultural exchanges, such as "The 2nd Belt and Road International Fashion Week" to be held in Guangzhou in December.
"Even China is well aware that Asia Today has been contributing to cultural exchanges between South Korea and China," Long said. "We want to bring peace to the world through the media. I believe Asia Today can be a great help in order to reach that goal."
Long presented the Royal Seal, which was delivered to the world leaders at the Belt and Road Forum back in May, to Woo and asked once more for Asia Today's role as a permanent bridge for the development of bilateral relations.