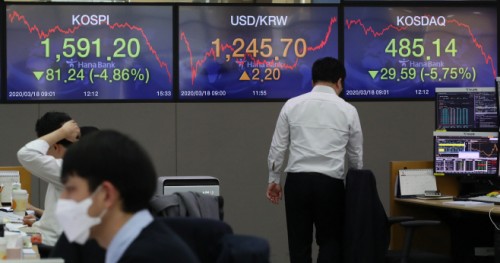 The photo taken on March 18, 2020 is the dealing room of Hana Bank in Seoul. The benchmark Korea Composite Stock Price Index (KOSPI) crashed nearly 5 percent to close at 1,591.20.
By AsiaToday reporters Jang Soo-young
The benchmark Korea Composite Stock Price Index (KOSPI) crashed further Thursday, hitting the lowest point in a decade.
The KOSPI dropped 81.24 points, or 4.86 percent, to close at 1,591.20, sinking below the significant 1,600-point level and marking the lowest point since May 26, 2010.
The market opened slightly higher at 1,686.12 – up 13.68 points, or 0.82 percent, from the previous session. The index, however, fell sharply in the afternoon.
"Investor sentiment dropped to extreme fear level, hindering the normal operation of the global market," said Kim Yong-goo, an analyst at Hana Financial Investment. "Futures on the Down Jones Industrial Average and Nasdaq plunged after an irrational sell-off, affecting the domestic stock market."
In the securities market, individuals purchased 910.8 billion won while foreigners offloaded 589.6 billion won, posting a net-selling for the tenth consecutive trading session dating to March 5. Institutional investors also dumped 431.5 billion won of stocks.
While most top stocks plunged, LG Household & Health Care closed 3.85 percent higher. Top tech giant Samsung Electronics moved down 3.59 percent to 45,600 won, and No. 2 chipmaker SK hynix sank 9.08 percent to 73,100 won. Samsung's health care unit Samsung BioLogics shed 4.07 percent to 400,500 won, and top chemical firm LG Chem sank 8.65 percent to 280,000 won. Top carmaker Hyundai Motor decreased 8.24 percent to 73,500 won.
The tech-heavy KOSDAQ began at 520.79 points, up 6.06 points or 1.18 percent from the previous session's close. The index, however, drastically fell in late afternoon to close at 485.14 points, down 29.59 points or 5.75 percent from the previous session.
In the KOSDAQ market, individuals net purchased 120.1 billion won. Foreign and institutional investors net sold 122.9 billion won and 7 billion won, respectively.
The won-dollar exchange rates in the Seoul foreign exchange market closed at 1,245.7 won per dollar, up 2.2 won from the previous trading day. The exchange rate rose for five consecutive days. It marks the highest value since June 11, 2010, at 1,246.1 won per dollar.