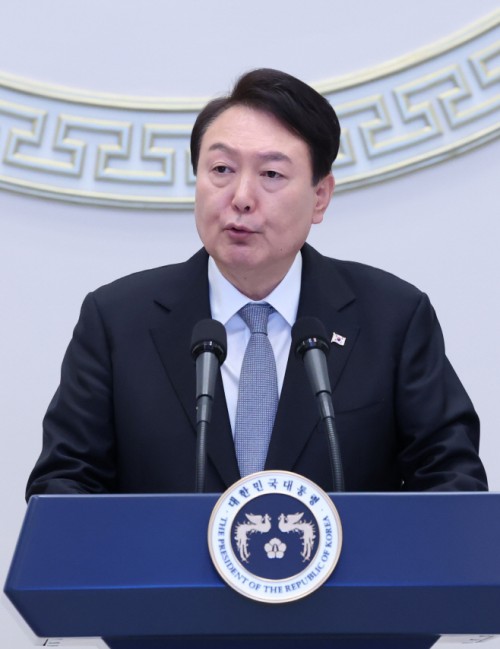 President Yoon Suk-yeol speaks during a luncheon with company CEOs at Yeongbingwan guesthouse in Cheong Wa Dae in Seoul on March 14, 2023./ Source: Yonhap
AsiaToday reporter Lee Wook-jae
President Yoon Suk-yeol will visit Japan for two days from March 16 for a summit with Japanese Prime Minister Fumio Kishida.
Yoon plans to normalize strained Seoul-Tokyo relations by meeting Japanese political figures as well as young people during his brief visit to Japan.
"The visit indicates a resumption of bilateral summit visits that have been suspended for 12 years, and will be an important milestone for the improvement and development of South Korea-Japan relations," South Korea's Director of National Security Kim Sung-han said during a press conference on Tuesday.
According to Kim, Yoon and First Lady Kim Keon-hee will depart for Tokyo on Thursday morning and have a luncheon with South Korean residents in Japan. The president will then hold a summit with the Japanese prime minister in the afternoon.
The leaders are expected to discuss ways to normalize bilateral relations, including the execution plan of compensating forced labor victims. They are also expected to exchange ideas on Japan's export restrictions and ways to remove South Korea from Japan's whitelist. "It will serve as an opportunity to lift barriers which are obstructing the two countries' economic exchange and explore ideas to deepen bilateral economic cooperation," Kim said.
On the second day, Yoon will meet high-profile figures from the Japan-Korea Parliamentarians' Union and the Korea-Japan Cooperation Committee, which promote the two countries' friendship. The event will be attended by Kishida's predecessors, including Taro Aso and Yoshihide Suga.
Yoon will then attend a Korea-Japan business roundtable luncheon with business leaders from both countries to support bilateral economic exchanges. Samsung Electronics Chairman Lee Jae-yong, SK Group Chairman Chey Tae-won, Hyundai Motor Group Chairman Chung Eui-sun, LG Group Chairman Koo Kwang-mo, and Lotte Group Chairman Shin Dong-bin, are reportedly scheduled to attend the event.
In the late afternoon, Yoon will deliver a speech at Keio University for Japanese and Korean students before returning to Korea.
"The relationship of personal trust between the leaders is a very important asset in diplomacy," Kim said. "The trust-building between the leaders will have a positive impact on friendship and exchanges between the peoples of the two countries in the future."