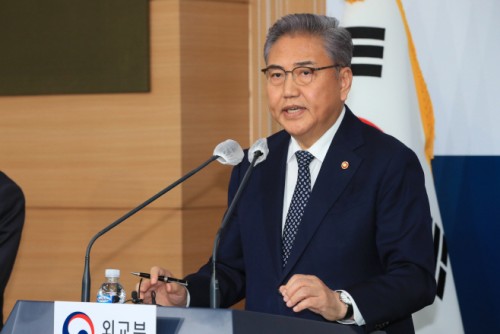 South Korean Foreign Minister Park Jin announced a plan on Monday to resolve the issue of lawsuits regarding former wartime forced workers from the Korean Peninsula, saying that a South Korean foundation under the umbrella of the South Korean Interior and Safety Ministry will pay compensation in lieu of Japanese companies that were ordered to do so./ Source: Joint Press Corps
AsiaToday reporters Lee Seok-jong
The Yoon Suk-yeol government has made a significant move toward resolving Seoul-Tokyo relations that have worsened been in recent years. In a bid to improve poor relations between the two countries, the South Korean government decided to pay compensation to people forced to work under Japan's occupation in Korea in lieu of Japanese companies that the ordered to do so. The plan faced backlash however it can be seen as the government's solution to resolve the security situation on the Korean Peninsula that has become severe due to North Korea's nuclear and missile threats. The U.S. government welcomed the plan.
The government announced Monday that it plans to resolve the issue of lawsuits regarding former wartime forced workers from the Korean Peninsula, saying that a foundation called the Foundation for Victims of Forced Mobilization by Imperial Japan under the South Korean Interior and Safety Ministry will provide compensation instead of Japanese companies that forcibly mobilized Koreans.
"The Foundation for Victims of Forced Mobilization by Imperial Japan under the interior ministry will provide compensation and interest on the delayed payment to the plaintiffs of the final rulings on the three 2018 Supreme Court cases in order to pay reparations for the victims and their families," Foreign Minister Park Jin said in a press conference.
"The same foundation will cover the compensation and interest for the plaintiffs of pending cases if the court rules in their favor," Park said. "The foundation will also boost awareness of the wartime atrocities through an education campaign and the creation of research projects so that people remember the suffering and pain and pass them down to future generations."
The foreign minister said that funds for compensation would be raised by "voluntary" private sector donations and paid to the foundation. "The government hopes to work with Japan, our closest neighbor, who shares the universal values of liberal democracies, market economies, rule of law and human rights amid the increasingly severe situation on the Korean Peninsula and amid the current grave international situations," Park said.
In response, the Japanese government announced that it would maintain the historical perception of the previous Japanese Cabinets, saying, "We maintain the position taken by previous Japanese Cabinets on historical recognition as a whole, including the Japan-South Korea Joint Declaration issued in October 1998."
"We welcome this as a step that returns Japan-South Korea relations to a healthy one," said Japan's foreign minister, Yoshimasa Hayashi. "The Japanese government is currently strengthening strategic cooperation between Seoul and Tokyo and between Seoul, Tokyo and Washington, considering security aspect," the minister said.
"We expect the announcement would greatly expand exchanges in political, economic, and cultural fields," the Japanese minister added.
Japanese Prime Minister Fumio Kishida also commended Seoul's announcement as a move to "restore Korea-Japan relations to a healthy one."
In a statement, US President Joe Biden said the announcements were "a groundbreaking new chapter of cooperation and partnership between two of the United States' closest allies" and a "critical step to forge a future for the Korean and Japanese people that is safer, more secure, and more prosperous."