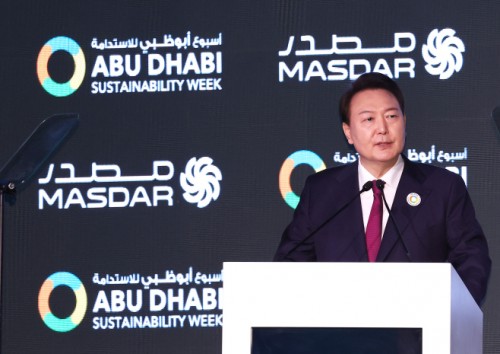 President Yoon Suk-yeol delivers a keynote speech at the opening ceremony of Abu Dhabi Sustainability Week at the Abu Dhabi National Exhibition Centre (ADNEC) in the capital of the United Arab Emirates on Jan. 16, 2023. / Source: Yonhap
AsiaToday reporter Lee Wook-jae
President Yoon Suk-yeol reconfirmed the plan to scrap the nuclear phase-out policy on the third day of his four-day state visit to the United Arab Emirates (UAE) by visiting the Barakah nuclear power plant in Abu Dhabi, South Korea's first overseas nuclear power plant project. The president continued his "economic diplomacy" by delivering a keynote speech at the opening ceremony of Abu Dhabi Sustainability Week, and attending the South Korea-UAE Business Forum.
Yoon attended the opening ceremony of Abu Dhabi Sustainability Week with UAE President Mohamed bin Zayed Al Nahyan at the Abu Dhabi National Exhibition Centre (ADNEC) on Monday and said, "By tapping into Korea's world-class IT and infrastructure technologies and the UAE's experience of building and operating 'Masdar,' our two countries can bring a sustainable future to many cities around the world."
Yoon's remarks express his expectations for the project to advance into Korea. 'Masdar City' is a mega city development plan representing the Middle East, and the UAE is investing nearly 24 trillion won to build the planned low-carbon urban community.
"The world is paying attention to the UAE's bold move toward carbon neutrality in preparation for the post-oil era," Yoon said, noting that the UAE was the first country in the Middle East to declare a carbon neutrality goal in 2021. "If the special strategic partnership between Korea and the UAE further extends to cooperation in achieving carbon neutrality, the two countries will be able to promote their leadership in the international community and create more opportunities for economic cooperation," he said.
After the event, Yoon headed to the Barakah nuclear power plant to encourage field workers. Yoon toured the facility, and celebrated the completion of Unit 3 while checking progress on the construction of Unit 4.
"The Barakah plant is the first nuclear power plant in the Arab region and is considered to be a miracle on the desert," a high-ranking official in the presidential office said. "When all four units are in preparation, the plant will supply up to 25 percent of the UAE's power needs," the official added.