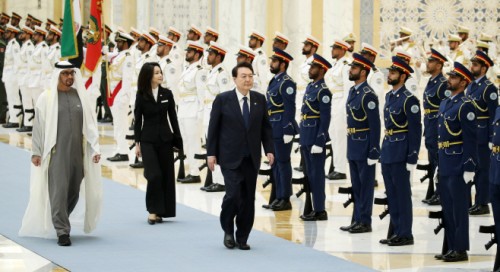 President Yoon Suk-yeol inspects an honor guard during an official welcome eremony at the Oasr Al Watan presidential palace in Abu Dhabi on Jan. 15, 2023./ Source: Yonhap
AsiaToday reporter Lee Wook-jae
South Korean President Yoon Suk-yeol and UAE President Mohamed bin Zayed Al Nahyan agreed to develop the special strategic partnership between their countries to the highest level during their summit meeting on Sunday, the second day of his four-day state visit to the UAE.
The two leaders signed a total of 13 memorandums of understanding (MOUs) to strengthen cooperation in nuclear power, energy, investment, arms and climate change.
Yoon held an expanded meeting with his counterpart followed by a one-on-one meeting, and agreed to strengthen cooperation between the two countries. It is the first visit by a South Korean leader since the two sides established diplomatic ties in 1980. The UAE launched an escort fighter squadron for the state visit of Yoon and first lady Kim Keon-hee, and hoisted the South Korean flags in various places in Abu Dhabi, giving a special meaning to the meeting between the two countries.
The two leaders elevated the bilateral relationship to the highest level as special strategic partners. At the same time, the two leaders agreed to strategically strengthen cooperation in areas such as nuclear power, energy, arms and investment.
The MOUs they signed include an MOU on strategic defense industry cooperation, an agreement on a joint oil reserve project, an MOU on space cooperation between the two countries, an MOU on financial cooperation between Korea Eximbank and TAQA.
With the summit, the two countries have made a stepping stone for future generations.
"Recently, gulf countries have been developing future industries in an active manner to prepare for the post-oil era," he said in a local interview. "Given Korea's world-class technological prowess, the experience and know-how that we accumulated carrying out projects around the Gulf and the common vision we share with Gulf countries, both sides are optimal partners for each other."