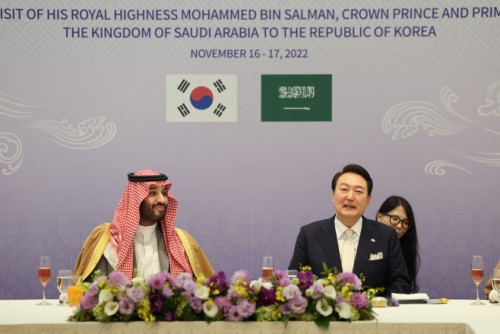 South Korean President Yoon Suk-yeol and Saudi Crown Prince and Prime Minister Mohammed bin Salman hold a luncheon meeting at the presidential residence in Seoul on Nov. 17, 2022./ Source provided by the presidential office
AsiaToday reporter Lee Wook-jae
Saudi Crown Prince Mohammed bin Salman, who met with South Korean President Yoon Suk-yeol, expressed his intention to dramatically strengthen cooperation with South Korea for the realization of 'Saudi Vision 2030', which include a $500 billion project called Neom City. Expectations about a "second Middle East boom" are rising.
In particular, Saudi Arabia's investment plan to promote substantive cooperation between the two countries was revealed Thursday, supporting such expectations.
The South Korean government and the Saudi investment ministry held a bilateral investment forum on Thursday and signed 26 memoranda of understanding (MOU). Six cases are related to investment between Korean private firms and the Saudi investment ministry, 17 cases between Korean firms including public companies and Saudi institutions, and three related to S-Oil investment.
Saudi Aramco subsidiary S-Oil announced it will spend $7 billion for its mega petrochemical project "Shaheen" to build a steam cracker for the petrochemical business in Ulsan. It is the largest investment project in the domestic oil refining and petrochemical sector.
S-Oil revealed the investment plan in line with the Seoul visit of Crown Prince bin Salman, a major shareholder of Aramco. Once the construction is completed, S-Oil's chemical yield based on volume will more than double to 25 percent by 2030 from the current 12 percent.
S-Oil said the Shaheen project will create up to 17,000 jobs during the construction and create an effect of revitalizing the construction industry in Ulsan by more than 3 trillion won.
President Yoon held a series of expanded talks, private talks and an official luncheon with Saudi Crown Prince Mohammed, who made an official visit to South Korea on the occasion of the 60th anniversary of the establishment of diplomatic relations between the two countries. The two sides agreed to establish a "strategic partnership committee" between them to more systematically pursue the two countries' cooperation projects.
At the meeting, Yoon assessed that Saudi Arabia is a "key partner for South Korea's economic and energy security" as the country's largest trading partner in the Middle East and partner nation in overseas construction. "With Saudi Arabia opening a new future through 'Vision 2030', now is the right time to take the bilateral relations to a new level," Yoon said.
The Saudi Vision 2030 is a roadmap for political, economic and social reforms announced by Crown Prince bin Salman in 2016. It aims to break away from Saudi Arabia's oil-centered economy, and the mega city construction project 'Neom City' is one of the key projects of the Vision 2030.
Yoon also expected to further strengthen cooperation in various areas, such as energy cooperation, investment cooperation, defense cooperation, cultural exchange, people-to-people exchange, and tourism, according to the presidential office.