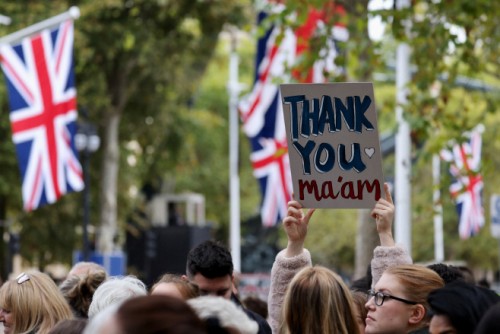 Crowds pay tribute to the late Queen Elizabeth II at Buckingham Palace in London, England, on Sept, 19, 2022./ Source: Reuters
AsiaToday reporters Seon Mi-ri & Lee Wook-jae
Hundreds of foreign royals and heads of state, including South Korean President Yoon Suk-yeol, attended the funeral of Queen Elizabeth II, who had been on the British throne for 70 years, at Westminster Abbey in London on Monday.
The dean of Westminster conducted the funeral service, with readings by Prime Minister Liz Truss and Patricia Scotland, the secretary general of the Commonwealth. The archbishop of Canterbury gave the sermon. Then two minutes of silences took place across Britain. The service ended with pipe musicians playing the British national anthem.
The queen's coffin was taken in a walking procession from the abbey to Wellington Arch, near London's Hyde Park, before being driven to Winsor Castle.
President Yoon also attended the funeral to pay tribute to the deceased. A detailed route of the president was not revealed, but he would have naturally met with major heads of state and royals as they attended the service.
In fact, Yoon attended a reception hosted by King Charles III at Buckingham Palace, ahead of the queen's state funeral. "The queen's lifetime of dedication for the protection of peace and freedom will be remembered, and South Koreans are grieving the loss of the queen," Yoon said.
In response, King Charles III expressed his gratitude for the president's visit to the U.K. During Yoon's meeting with the royal family, the king introduced his family members to the president and the first lady - his wife, Queen Consort Camilla, his son Prince William and William's wife, Kate Middleton. Middleton said she has never been to South Korea before and she wants to visit the country if invited. Yoon responded that she is welcome to visit anytime.
During the reception, Yoon met other countries' leaders, including U.S. President Joe Biden, UK Prime Minister Liz Truss, French President Emmanuel Macron, and German President Frank-Walter Steinmeier.