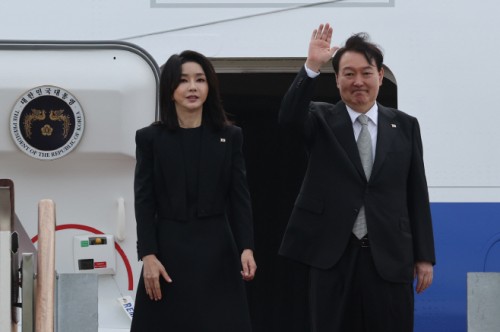 President Yoon Suk-yeol and first lady Kim Keon-hee pose for photos on Sept. 18, 2022, at Seoul Air Base before leaving for London for a three-nation trip./ Source: Yonhap
AsiaToday reporter Kim Na-ri
President Yoon Suk-yeol has embarked on a three-nation trip on Sunday to Britain, the United States and Canada. This is his second overseas trip since taking office.
Yoon, who departed through Seoul Air Base for a seven-day trip, will visit London, New York, Toronto and Ottawa.
Through this visit, Yoon plans to expand "contribution diplomacy" in all areas by increasing solidary with countries that share the core values of liberal diplomacy and expanding economic security. The biggest portion of his trip is focused on "economic diplomacy". He plans to work hard on sales diplomacy, strengthening supply chain of high-tech industries and establishing a foundation for cooperation between scientific technology and future growth industries.
Yoon plans to attend a reception hosted by King Charles III on Sunday to express his condolences over the passing of Queen Elizabeth II. As the heads of countries attending the funeral are expected to attend, he is expected to meet with various foreign leaders before attending the Queen's state funeral at Westminster Abbey on Monday.
Following the funeral, Yoon will fly to New York, where he will deliver a keynote address during the General Debate of the 77th U.N. General Assembly on Tuesday. Yoon will make his debut on the U.N. stage with a speech suggesting the government's 'bold initiative' to resolve North Korea's nuclear program and draw sympathy from the international community. After the speech, Yoon is expected to meet with U.N. Secretary-General Antonio Guterres to discuss the North Korean issue and ways to strengthen Korea-U.N. cooperation.
Yoon will have summits with U.S. President Joe Biden and Japanese Prime Minister Fumio Kishida. Attention is focused on whether Yoon and Kishida will make a breakthrough in improving bilateral relations during the summit. At the Korea-U.S. summit, Yoon and Biden are expected to discuss the issue of reducing subsidies for Korean electric vehicles due to the recently passed U.S. Inflation Reduction Act (IRA) and currency swap.
In addition to this, Yoon will attend five economic-related events in New York as part of his sales diplomacy, including digital vision forum, a meeting with Korean-American scientists, and a Korea-U.S. startup summit.
Yoon's last stop of the tour will be Canada, a resource-rich country and an artificial intelligence (AI) powerhouse. In Canada, Yoon will materialize supply chain cooperation for key minerals such as lithium, nickel and cobalt, and strengthen cooperation between companies of the two countries in the AI sector. After a meeting with experts in AI on Thursday, Yoon will hold a summit with Canadian Prime Minister Justin Trudeau in Ottawa on Friday.
First Lady Kim Keon-hee is also accompanying Yoon on the tour.