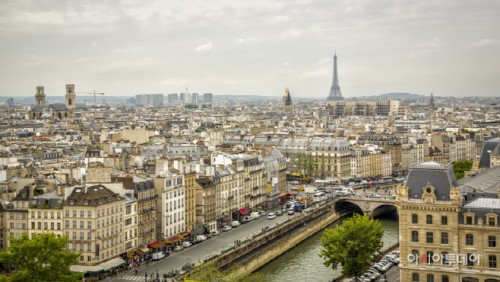 Along with Zurich, Paris is the world's most expensive city, according to the Economist Intelligence Unit's Worldwide Cost of Living survey published last September./ Source: Getty Images
Paris correspondent Lim Yoo-jung & reporter Jung Jae-ho
A young man from the provinces realized his dream of living in Paris in 2017 after graduating with a master's degree. Mr. Charles worked for a bank located in La Défense in Paris. When working as an intern while studying for a master's degree in finance at the Sorbonne University in Paris, he earned €1,200 (KRW 1.56 million) per month. After working full-time, his monthly salary rose to €2,050 (KRW 2.66 million) after tax. A bonus and 50% of transportation expenses were given to employees working at the Paris branch considering prices in the city, but it was not enough for them to save money.
The salary of Mr. Charles is not much different from the average starting annual salaries (KRW 3.43 million per month, KRW 41.21 million per year) of college graduates working for South Korean conglomerates according to a data released by JobKorea in March. The average annual salary of college graduates working for banks in South Korea exceeds 50 million won.
As of 2021, the French monthly minimum wage is €1,554 (KRW 2.07 million) before tax and €1,231 (KRW 1.64 million) after tax, on the basis of the legal working week of 35 hours. The hourly wage would be €10.25, an increase of about 1 percent compared to last year.
Perhaps that is why the lives of young people in France are as tough as in Korea. Mr. Charles is the example of French youth struggling with France's high housing prices and seeking better quality of life. Along with Zurich, Paris is the world's most expensive city, according to the Economist Intelligence Unit's Worldwide Cost of Living survey published last September. The survey is based on the prices of different kinds of goods and services in major cities worldwide.
"I enjoyed my life in Paris while attending graduate school. I naturally got a job in Paris. Compared to the expensive house price, it had small rooms and no gardens or balconies. But my life was happy before the outbreak of the pandemic," he said.
A few months of COVID-19 lockdown completely changed his view of life. In the fourth year of working in Paris, the pandemic spread and France was under strict lockdown measures. During the pandemic, living in Paris had more disadvantages than advantages. Mr. Charles wanted a comfortable house where he could raise his dog during lockdown. "The first lockdown in Paris was brutally hard for me. It was painful to be locked up in a small house for two months. It was when I decided to leave the city."
Mr. Charles lived in a studio also known as "maid's room," the 6th floor of a Haussmann-style building without an elevator. He paid €650 (KRW 840,000) per month for the 18-square-meter studio. Heating and gas costs were separately paid. Sometimes he had to pay more than 1 million won for housing expense.
"All the charms of living in Paris seemed to be a downside. I decided to go back to my hometown. Eventually, I started seeking jobs in western France in July 2020."
Irritated by the ban on outdoor activities, working at a small studio, and the densely populated city, Mr. Charles began applying for local banks. After two failed attempts, he moved to a bank in Nantes, nearly 400 kilometers from Paris. In the new city, the house that he signed for rent is 70-square-meter, which is about four times bigger than that of the Parisian studio. The monthly rent is €730 (KRW 950,000). It has two rooms and 100-meter-square garden, where he pet can freely run around.
"I'm living a much better life in Nantes. I live in peaceful suburban region, 15 minutes drive from Nantes, with easy access to the city. It's my first time living here, and I get to find new beaches, forests, vineyards and promenades every week. I felt comfortable as soon as I moved to Nantes. I got a better job with better working conditions. Moving to Nantes is the best luck I've ever had this year."