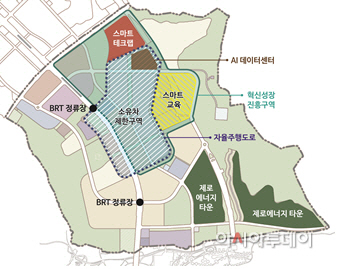 The design of the Sejong 5-1 Smart City Life Zone / Source: The Ministry of Land, Infrastructure and Transport
By AsiaToday reporter Cheong Ah-reum
Lee, a 27-year-old man living in the Busan Eco-Delta City in 2022, parks his car at the entrance of a smart parking lot and leaves. After a little, a robot lifts the man's vehicle in its carrier and parks the car. At parks and schools, some robots do patrols and provide information and safety services to the people.
42-year-old Yoon of Sejong 5-1 Smart City Life Zone commutes by personal mobility devices, such as self-driving cars (electric shared cars) and Segways, instead of his own car. Personal vehicles are not allowed on autonomous vehicle lanes, which are fine for people to walk around. Recently, when his four-year-old son got a high fever at night, a smart home function with block-chain technology sensed a state of emergency and contacted a hospital. Through a video connection, Yoon was able to receive healthcare service and respond faster than waiting in lines at the emergency room for a long time.
This is what life will be like in two new smart cities in port city of Busan and the administrative hub city Sejong in the end of 2021.
The Presidential Committee on the Fourth Industrial Revolution and the Ministry of Land, Infrastructure and Transport announced plans of constructing two test-bed smart cities at a ceremony held in Busan, Wednesday, with President Moon Jae-in in attendance.
"It will be the world's first to create a test-bed complex at the national level," Moon said. "While a smart city is a safe and future-oriented city, it is also a platform for innovative growth of the Republic of Korea."
"Those who live in Busan's new smart city in 2022 will save up to 124 hours a year - 60 hours of commuting, 20 hours of waiting for administrative tasks to go through, and 5 hours of waiting in lines at hospitals," the president said. "It is an ambitious plan to create a new smart city that perfectly combines fourth industrial revolution technologies with cities from scratch, instead of remodeling or redeveloping an existing city."
The Sejong 5-1 Life Zone will be created with an aim to become the world's first smart city operated by artificial intelligence (AI) systems.
To this end, seven key service elements will be introduced: mobility, healthcare, energy and more.
Within the new smart cities, advanced traffic lanes for autonomous or shared vehicles and zones restricting personal vehicles will be established.
The Busan Eco-Delta City will be created as a robot- and water-specialized city in order to cope with urban problems, such as rapid aging and job losses.
Regarding water-specialized city, advanced smart water management technology will be applied to the entire water cycle process within the city in order to respond to climate change.
The government will spend 26.5 billion won (US$23.6 million) in 11 projects to combine new technologies involving the new smart cities and attract private companies.