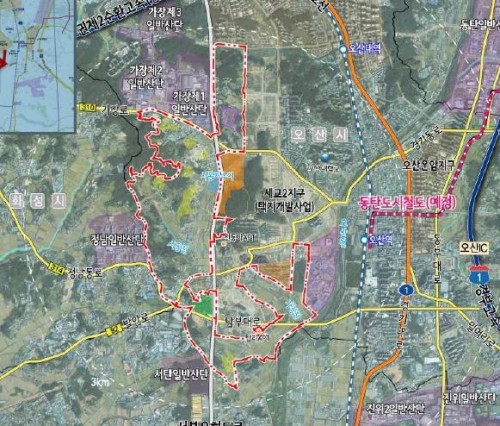 Location map of Segyo District 3 in Osan, Gyeonggi Province, which will see the construction of a new town./ Source: The Ministry of Land, Infrastructure and Transport
AsiaToday reporter Jeon Won-joon
The government will supply 80,000 new homes in five new sites nationwide, including Guri, Yongin, Osan in Gyeonggi Province, as well as Cheongju, North Chungcheong Province, and Jeju Island. It is a follow-up measure to its house supply boosting plan announced on September 26.
The Ministry of Land, Infrastructure and Transport announced Wednesday the five sites to supply 80,000 new homes. It is the third time for the incumbent government to select new areas for public homes following the plan released in November last year to supply 46,000 public homes in Gimpo near Seoul, and the plan announced in June to supply 39,000 homes in Pyeongtaek, south of Seoul, and Jinju of South Gyeongsang Province.
The government plans to provide 65,000 homes around the capital, with 31,000 in the Segyo area of Osan, 16,000 in the Edong area of Yongin, and 18,500 in the Topyeong area of Guri, Gyeonggi Province. In the provinces, 14,500 units will be supplied, with 9,000 in the Bunpyeong area of Cheongju, North Chungcheong Province, and 5,500 in the Hwabuk area of Jeju Island.
"The ministry selected regions with the highest housing demands in the country and the biggest potential for balanced growth of the economy and community," the ministry said in a statement.
The government plans to develop the regions with differentiated concepts for each. The Topyeong area of Guri will be developed into a city that combines high-quality housing, new industries, and leisure with a specialized view of the Han River, while the Segyo area of Osan will be designed as a self-sufficient city that supports semiconductor industry as it will provide homes for workers in neighboring industrial complexes. The Edong area of Yongin will be created as a high-tech city with strong commercial, leisure and education functions as it is another new area that will contain new homes for IT workers in the chip industry.
The Bunpyeong area of Chungju will be developed as a "10-minute walkable city," where residents can walk to industrial zones, MICE, and waterside parks on foot. The Hwabuk area of Jeju Island will be created as an "eco-friendly green-hydrogen energy city" that revitalizes the eastern party of Jeju City.
The land ministry plans to finalize the designations of the new towns by 2025, obtain overall planning approved by 2026 and authorize the first housing construction projects by 2027.