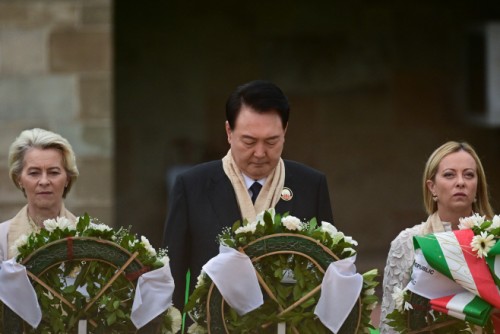 President Yoon Suk-yeol lays flowers to pay tribute at Mahatma Gandhi Memorial Park in New Delhi, India, on Sept. 10, 2023./ Source: Yonhap News
AsiaToday reporter Hong Sun-mi
President Yoon Suk-yeol said on Sunday that South Korea will continue to lead the international community's discussions as a digital leader to prepare digital ethics principles and norms.
Yoon made the remarks during a session entitled "One Future" of the Group of 20 (G20) summit in New Delhi. He stressed that digital gaps, cybercrimes, and fake news threaten global civil freedom.
"At Sorbonne University in Paris in June, I proposed to create an international organization to establish norms for digital order," he said. "South Korea will announce the 'Digital Bill of Rights' at the end of this month and declare the right to enjoy digital technologies as universal human right."
Regarding management reforms of multilateral development banks (MDBs), Yoon said, "We need to strengthen the role of multilateral development banks to better respond to new challenges, such as overcoming the climate crisis, enhancing food and energy security, and achieving sustainable development goals (SDGs)." He called for the need to increase the banks' financial resources and speedily reorganize their use with a view to helping low-income nations settle their debts.
Yoon vowed to implement a comprehensive support program involving security, humanitarianism, and reconstruction. He said the support package will begin with the provision of $300 million worth of aid next year through various means, including humanitarian aid, grants for development and providing funds to international financial organizations. "We will provide a mid- to long-term support package worth more than $2 billion for the war-ravaged Ukraine," he said.
In addition, Yoon said that South Korea will not spare the necessary support for Morocco over a massive earthquake.
Yoon officially wrapped up his six-day trip to Indonesia and India after engaging in a flurry of diplomacy to stress global cooperation in dealing with North Korea's nuclear weapons program while sending a clear warning to the North at ASEAN-related summit in Jakarta, Indonesia, ahead of the G20 summit. He also urged Russia and China to play a significant role in North Korea's illegal activities, while meeting with Chinese Premier Li Qiang to express his willingness to improve bilateral relations through dialogue.