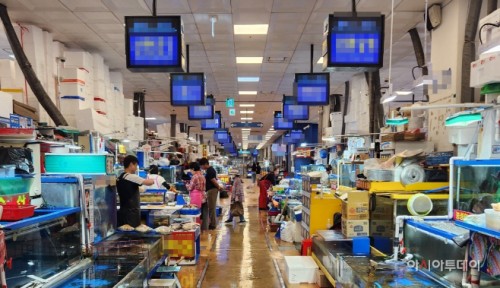 Noryangjin Fisheries Wholesale Market in Seoul remains quiet on Aug. 24, the day Japan begins to release treated radioactive water from the crippled Fukushima nuclear power plant. / Photographed by Kim Hyung-joon
"What can a merchant do? I cannot do anything, but just waiting for a visitor," a merchant at Noryangjin Fisheries Wholesale Market said.
Noryangjin market, the renowned seafood market in Seoul, remained empty Thursday after Japan released the Fukushima nuclear plant water into the sea.
"Sales fell 70 percent due to the contaminated water release issue during the off-season in the summer," said a seafood merchant in his 50s who has been doing business for 25 years. "The neighboring stores are shutting down one by one. I do not know how long I can cope with it."
A raw fish restaurant owner in his 70s who has been doing business for 30 years, said the number of customers has recently decreased to half. "No matter how many times you say it's safe, it's the customers that won't come," he said. "It had only begun to recover from the customer exodus in the past due to the pandemic. I feel frustrated by the wastewater release."
When I walked around the market from 9 a.m. to 11 a.m., only customers who rushed the way were seen sometimes, and there were few who came to buy some seafood.
The fish market remained quiet. The only hope left for merchants is the upcoming Chuseok holiday.
"We are waiting for Chuseok holiday because the radioactive water release is expected to hit our business," said Cha Deok-ho, president of the merchant association at the Noryangjin market. "We are planning a refund gift card event while emphasizing that there is no problem with safety."
Other local fish markets are also suffering from the Fukushima wastewater release. Garak Market, one of the largest food markets in the country, remained quiet. A marine products distribution center in Gwangyang, South Jeolla Province, was scheduled to open next month, but postponed it indefinitely due to the wastewater discharge.
An official from Gangdong Fisheries said, "Everyone is worried without any specific plans," adding, "I went to the South Sea today, and they seemed to be hit harder than here in Seoul."
"Safety issues are sensitive, making it difficult for consumers to make decisions," said Lee Young-ae, a professor at the Department of Consumer Science at Incheon National University. "It will be difficult to revitalize the fisheries industry until customers experience and feel relieved about the risks," she said.