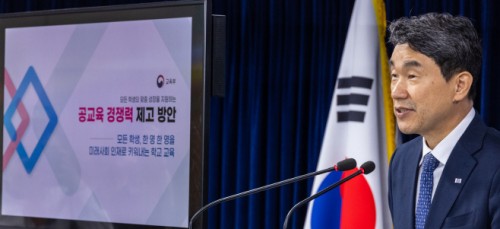 Education Minister Lee Ju-ho speaks during a press briefing at the Government Complex Seoul on June 21, 2023./ Source: Yonhap
AsiaToday reporter Park Ji-sook
The government plans to strengthen the competitiveness of public education by improving basic education, converting into digital education, and diversifying high school choices. First, it will designate the 3rd grade of elementary school and the 1st grade of middle school as responsible education grades to strengthen their basic academic ability. It plans to boost the competitiveness of public education by introducing digital textbooks and training of teachers, implementing high school credit system while maintaining foreign language high schools, private high schools, and international high schools.
Lee Ju-ho, Deputy Prime Minister and Minister of Education, announced measures to improve the competitiveness of public education at the Government Complex Seoul on Wednesday.
"Although educational conditions have improved dramatically, such as the education budget of provincial and provincial offices of education nearly doubling and the number of students per class continuing to decrease, the educational gap has widened due to the uniform egalitarian education policy, and the quality of public education has declined overall," the minister said.
Under the plan, the government plans to designate the 3rd grade of elementary schools and the 1st grade of middle school, which are critical periods for students' learning and growth, as responsible education grades and provide intensive support. Based on the results of the academic achievement evaluation, the government plans to provide customized learning while strengthening students' personality education as well as developing their social and emotional capabilities.
Autonomous private and foreign language high schools and international high schools, which were scheduled to be converted to general high schools from 2025, will retain their status. The education ministry plans to enable various education that students and parents want from public education. It will promote Meister High School 2.0 to foster professional talents who can respond to changes in industrial demand, such as promising future growth industries. It will also promote Autonomous Public High School 2.0 to allow public high schools autonomously innovate education depending on regional conditions. It will supplement the problems raised in relation to the high school credit system, which will be fully implemented in 2025. In the case of common subjects for high school first graders, both achievement and relative education systems will be simultaneously used to ensure the fairness of the high school grading system. In the case of elective subjects, only the achievement evaluation system will be used. It plans to establish and operate an evaluation management center to increase the reliability of achievement evaluation system.
In line with digital text books to be introduced in 2025, the government will create an environment where teachers can strengthen their teaching capabilities and concentrate on classes. It will provide teacher training and protect their educational activities by actively responding to interference with classes and more.
The education ministry also vowed to combat false ads and irregularities in private education by receiving reports on them for two weeks starting Thursday.