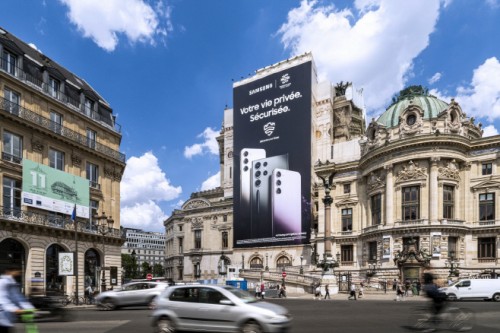 Samsung Electronics has installed a large billboard supporting Busan's bid to host World Expo 2030 at the Palais Garnier in Paris on Jun. 19, 2023. / Source: Samsung Electronics
AsiaToday reporter Choi Won-young
South Korean companies have ramped up their efforts to support Busan's bid to host World Expo 2030. In particular, the heads of the country's major business groups – Samsung, SK, Hyundai Motor and LG – headed to Paris to participate in promotional activities themselves.
According to the business community on Monday, business tycoons including Samsung Electronics Executive Chairman Lee Jae-yong, SK Inc. Chairman Chey Tae-won, Hyundai Motor Group Executive Chair Euisun Chung and LG Corp Chairman Koo Kwang-mo headed to Paris. The 19-member business delegation, including Hanwha Group Vice Chairman Kim Dong-kwan, Hanjin Group Chairman Walter Cho and Hyosung Group Vice Chairman Cho Hyun-sang, will accompany President Yoon Suk-yeol to put their efforts to support Busan's expo bid.
SK Chairman Chey Tae-won, who injured his leg, headed for the business trip on a set of crutches with all the pending issues of companies behind him. Even the crutches he was holding drew attention as they were engraved with the Busan expo logo. The business aircraft used by SK's top executives is painted with large phrases promoting the Busan expo.
Hyundai Motor Chairman Chung Eui-sun has also stepped up efforts to provide support. The group dispatched 10 electric vehicles – IONIQ 5, IONIQ 6 and EV6 - with the "BUSAN is READY!" logo near Paris tourist spots such as Eiffel Tower and Louvre Museum. The vehicles will be provided to foreign delegations.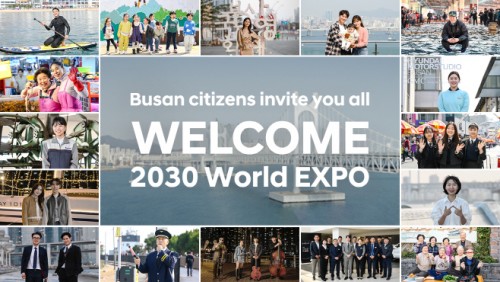 A part of Hyundai Motor Group's first series of Busan World Expo promotional videos, "Busan Citizens Invite You All," features Busan residents introducing the port city's attractions. / Source: Hyundai Motor Group
Hyundai Motor Group's promotional videos, entitled "Busan Citizens Invite You All" and created with the citizens of Busan and foreign residents in Korea to promote Busan's expo bid, has become a hit. The first video featuring Busan citizens has surpassed 56.45 million views and the video featuring foreign residents surpassed 44.7 million views, exceeding 100 million views in total.
Samsung Electronics has installed a large billboard supporting Busan's bid at the Palais Garnier in the central Paris. It is also playing a promotional video for the bid on LED advertisement boards at various landmarks around the world.