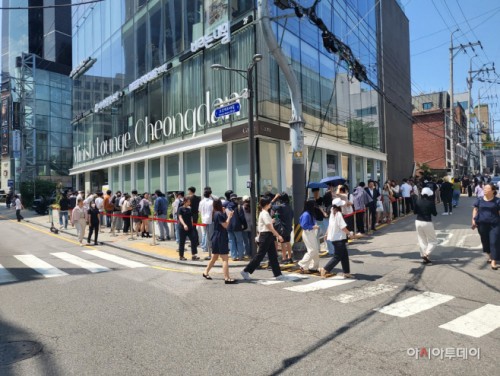 Customers line up outside In-N-Out pop-up store in Cheongdam-dong, Seoul, on May 31, 2023./ Source: Park Sae-young
An In-N-Out pop-up store exclusively opened for just four hours for 500 customers.
This was a part of global marketing strategies introduced by In-N-Out Burger, one of the major U.S. hamburger franchises, to the Korean burger market. The price was even cheaper than in the U.S. Its iconic Double Double is sold for about 6,490 won in the U.S. based on a single burger. The single burger sold at the pop-up store in Seoul on Wednesday was 6,000 won. The price was decided after reviewing burger prices in the local franchise industry. In addition, its cheeseburger cost 5,000 won and a hamburger 4,000 won.
It is the first time in four years that In-N-Out Burger has opened a pop-up store in South Korea since 2019. The company has been steadily promoting internationally in the form of pop-up stores. Market observers say there are many reasons why In-N-Out is not opening stores overseas, but among them, the prevailing view is that the company needs to focus on expanding in the U.S.
"There is no immediate time frame to open up a restaurant here," Luis Hernandez, manager of special foreign events at In-N-Out told AsiaToday. "We are happy with doing just pop-ups." He is currently the head of global pop-up stores and has been in charge of pop-up stores in 30 countries. The special foreign events team is a department that only hosts pop-up stores in various countries around the world.
"We want to focus on expanding eastward, starting with Tennessee in five years," he said. "The reason we are on a global market tour is to provide people in many countries with the opportunity to taste our burgers and promote our brand."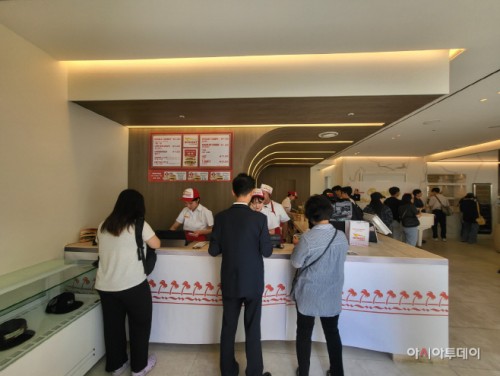 The In-N-Out pop-up store in Seoul on May 31, 2023./ Source: Park Sae-young
Due to the limited sales of 500 burgers, hundreds of customers started to line up early in the morning. The line leading to the side of the road along the Centre Cheongdam building where the pop-up store was opened continued into the alley. The first customer was in line from 1 a.m. Only one hamburger and up to five In-N-Out-inspired t-shirts can be purchased per person.
"I tried it when I traveled to the United States. I heard that a pop-up store will open in Korea, so I came to try it," a citizen held up a wristband that is needed for an entry into the restaurant. The pop-up store event lasted about four hours from 11 a.m. to 3 p.m., but people who failed to make it had to turn away.
Recently, the domestic burger industry has become a red ocean market. Five Guys, one of the top three burger franchise in the U.S., is also set to land in South Korea at the end of June. Shake Shack has been operating in the domestic market since 2016 with SPC Group winning exclusive business rights. As global companies continue to enter the Korean market, domestic burger companies are keeping on their toes.
On the Korean fast-food market, Hernandez said, "The Korean fast-food market seems to be very active. I like Korean food and culture."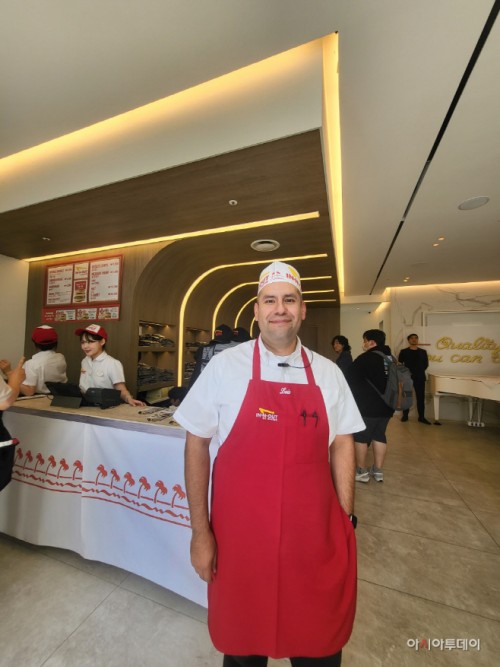 Luis Hernandez, manager of special foreign events at In-N-Out / Source: Park Sae-young