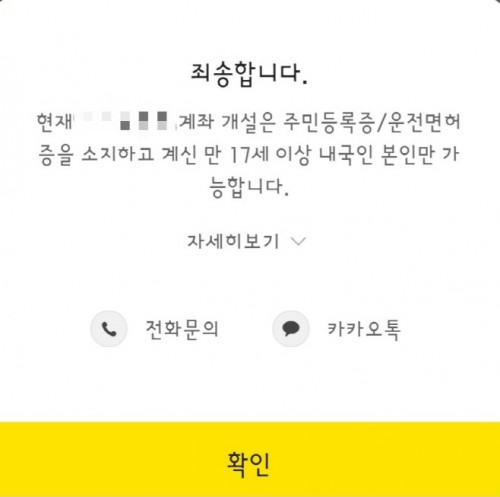 A screenshot of a message window when attempting to open an online bank account with a foreigner registration card
AsiaToday reporter Cho Eun-guk
It has been a long time since the number of foreigners living in South Korea exceeded 2 million. In other words, one out of every 25 people is a foreigner. As such, foreign residents are one of the pillars of the major economically active population, but they often face difficulties when making mobile transactions.
Most financial transactions, such as opening a bank account, making financial inquiries, and signing up for deposit products, can be used through mobile banking through smartphones. But it is a different story when you are a foreign resident. This is because mobile transactions do not support foreigner registration cards, or foreigner ID cards.
According to the financial sector on Tuesday, Hana Bank and Toss Bank are the only two out of 19 banks both online and offline that allow foreign residents to open a bank account.
Most banks do not support non-face-to-face financial transactions of foreigner ID cards because it is not easy to identify foreigners with foreign registration cards.
As a result, foreign residents have to visit bank branches to carry out financial transactions. "In order to do banking, I have no choice but to visit a bank," said Marie Chambillion, a 25-year-old French worker, adding, "It is difficult to conduct financial transactions because even smart kiosks within unmanned banks do not recognize my ID card."
The problem is that the number of bank branches is decreasing. Nearly 1,000 bank branches disappeared from 5,736 in 2018 to 4,984 last year. Moreover, they are not many specialized stores for foreigners.
As a result, many point out that banks should improve their systems so that foreign residents can use mobile banking. Since 2020, the financial authorities have been allowing non-face-to-face real-name verification and account opening using foreign registration cards through the "reorganization of non-face-to-face real-name verification guidelines", however it is not actually used due to many problems, such as fake bank accounts.
"It is up to financial companies to decide whether and when to introduce a system that can verify real names with foreign registration cards," said an official from the financial authorities, adding, "We will consult with related agencies to establish an authentication system for foreign registration cards."