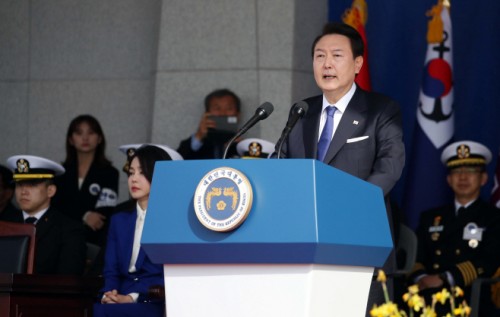 President Yoon Suk-yeol gives a congratulatory speech at the 77th graduation ceremony held at the Korea Naval Academy in Changwon, South Gyeongsang Province, on March 10, 2023./ Source: Yonhap
AsiaToday reporter Lee Wook-jae
President Yoon Suk-yeol has ordered relevant agencies on Monday to closely review any possible impact the Silicon Valley Bank (SVB) collapse may have on the domestic financial market.
The president was apparently stressing the need to examine the nation's financial system amid concerns that the domestic venture capital investment market will inevitably shrink due to the collapse of the U.S. bank that served as a key lender to tech startups.
Yoon issued the order while presiding over a meeting with his senior secretaries, according to presidential spokesperson Lee Do-woon.
"Uncertainty in the financial market is spreading due to the SVB bankruptcy," the president said. "With the finance minister in the lead, closely examine the cause of SVB's bankruptcy, how the situation develops, the U.S. authorities' response, and the impact on the domestic financial markets and real economy," Yoon said.
Shares of SVB, which served as a major lender to U.S. startups and venture capitalists, plunged on Thursday after the company announced that they had sold more than $20 billion of their Available for Sale (AFS) securities at a $1.8 billion loss.
The 16th-largest lender in the US with about $209 billion in assets went bankrupt in just two days as customers' deposit withdrawals soared. SVB became the second-largest bank that has collapsed in US history.F
Some claimed that this would have a huge impact on the domestic financial sector. However, Financial Supervisory Service (FSS) Governor Lee Bok-hyun said, "Since the US government and supervisory authorities have taken measures to protect all depositors of Silicon Valley Bank, the likelihood of the SVB closure escalating into systematic risk is limited."
However, the governor warned that it is "necessary to keep a close eye on domestic and foreign financial market trends as financial companies with a similar business structure in the US may be affected."