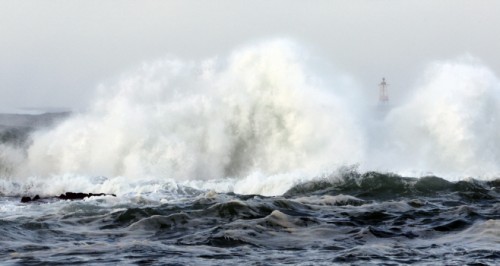 Waves crash against the coast of Jeju Island on Sept. 4, 2022, as Typhoon Hinnamnor moves toward the Korean Peninsula. / Source: Yonhap
AsiaToday reporters Park Ah-ram & Choi Jung-ah & Kim Han-seul
Typhoon Hinnamnor has landed on the Korean Peninsula. President Yoon Suk-yeol has ordered to fully prepare for the typhoon, including the preemptive operation of the Central Disaster and Safety Countermeasures Headquarters.
According to the Korea Meteorological Administration (KMA), the typhoon, which has been travelling northward from Taipei, Taiwan, is expected to arrive 340 kilometers south-southwest of the southern island of Jeju Island around 3 p.m. Monday as a "very strong" typhoon, with an atmospheric pressure of 930 hectopascals at its center and a maximum wind speed of 50 meters per second.
Its lowest central pressure is lower than that of Typhoon Sarah in 1995 and Typhoon Maemi in 2003, which recorded central pressures of 951.5 hectopascals and 954 hectopascals, respectively. The lower the central pressure, the stronger the typhoon. Most parts of the country, except some parts in the capital region and Youngseo district of Gangwon Province, is expected to come under the typhoon's direct influence.
The typhoon is expected to reach 50 kilometers east-northeast of Jeju Island around 3 a.m. Tuesday with the same strength, before weakening to "strong" while traveling to 50 kilometers north-northeast of Ulleungdo at around 3 p.m.
The country is expected to receive between 100 and 300 millimeters of rain between Sunday and Tuesday, with some parts of Jeju receiving more than 600 millimeters. Up to 400 millimeters of rain is expected in the northern part of Gyeonggi Province, the northwestern part of Youngseo in Gangwon Province, the southern coast, the eastern coast of Gyeongsang Province, Jeju, some parts of Mt. Jiri as well as islands of Ulleungdo and Dokdo.
President Yoon Suk-yeol presided over a meeting Sunday related to the typhoon at the underground base of the presidential office in Yongsan, Seoul. During the meeting, the president told top-ranking officials to prepare for the typhoon proactively.
"It is concerning because many people are still recovering from the recent flood damage," Yoon said. "The government should take a stronger and more perfect response."
"The government should do its best to minimize damage and put the people's safety as our top priority," he said. "The areas affected by the recent floods, such as semi-underground homes and lower coastal plain regions, require particular attention."
The president also ordered special attention to prevent maritime accidents. Some 16,000 vessels have been ordered to take safety measures.
Meanwhile, the Ministry of the Interior and Safety upgraded the Central Disaster and Safety level from the first to the third stage, and raised the crisis alert level from "caution" to "serious" at 4:30 p.m. Sunday.