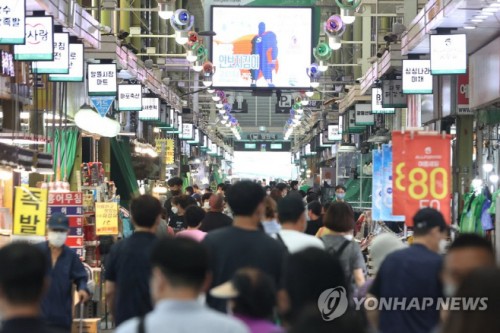 Source: Yonhap
AsiaToday reporter Lee Ji-hoon
Food prices continue to rise significantly. Last month, the eating-out prices saw the highest increase in nearly 30 years, and prices of processed foods such as cooking oil and flour continue to climb. Besides, soaring traditional Chuseok food ingredients are putting much pressure on the people ahead of the holidays. In response, the government is considering to announce measures this week aimed at stabilizing the people's livelihood.
According to the Korean Statistical Information Service (KOSIS) on Sunday, the price index for eating out in June 2022 increased by 8.4 percent compared to the same period in June 2021. This is the highest rate of increase in 29 years and 9 months since October 1992.
All the 39 types of outdoor food items were more expensive than last year. "Galbitang" (short rib soup) had the highest increase in price at 12.6 percent. It was followed by "jajangmyeon" (black bean sauce noodles) (11.9 percent), chicken (11.4 percent), "sambyeopsal" (grilled pork belly) (11.2 percent), "gimbap" (Korean-style seaweed and rice roll) (11.1 percent), and "tteokbokki" (stir-fried rice cake) (10.5 percent). This is attributed to the sharp rise in international oil and grain prices, and the increase in demand for dining out amid eased social distancing rules.
Processed food price rose 8.2 percent from a year ago, marking the highest increase since December 2011. The price of cooking oil soared 55.6 percent in a year, and the price of wheat flour and pancake flour rose sharply at 36.4 percent and 31.6 percent, respectively.
Price for Chuseok holiday items are also on a steep rise. Price for cabbage and radish skyrocketed by 72.7 percent and 53 percent, respectively. Livestock products including imported beef, pork and chicken also maintained an upward trend. Price for onions, garlic and potatoes soared due to the recent decline in production.
In response, the government plans to announce a set of measures this week to stabilize the people's livelihoods, mainly focusing on price management of holiday items.
The targeted items include cabbage, radishes, onions, garlic, potatoes, apples, pears, chestnuts, beef, pork, chicken, pollock, and squid.