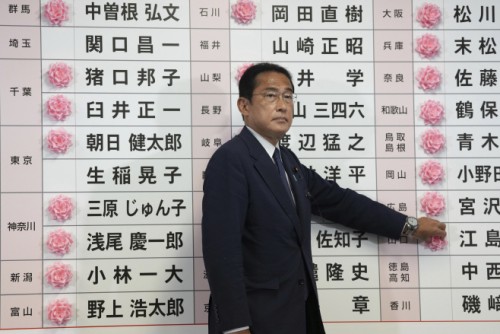 Fumio Kishida, Japan's prime minister and head of the Liberal Democratic Party (LDP), puts a red rose on an LDP candidate's name at the party's headquarters in Tokyo, Japan, on July 10, 2022./ Source: AP·Yonhap
AsiaToday reporters Joo Sung-sik
Japan's right-wing Liberal Democratic Party (LDP) scored a sweeping victory in the country's parliamentary election held on Sunday. Attention is now focused on whether Japanese Prime Minister Fumio Kishida will be able to push his own policies out of the shadow of former Prime Minister Shinzo Abe, based on a firm government base.
The LDP won 63 seats in the upper house election, local media outlets reported on Monday. It was a landslide victory by securing more than half of the 125 seats, including the 13 seats won by LDP's junior coalition partner
Komeito.
Besides, the LDP has already secured a coalition total of 146 seats in the 248-seat upper house, far beyond the majority, securing a more stable foundation for managing state affairs.
Political observers in Japan believe that the victory has given Kishida, who has been under the shadow of former Prime Minister Shinzo Abe since taking office in October last year, an opportunity to strengthen his position within the party. The sudden absence of Mr. Abe, who had great political influence even after his retirement and supported Kishida to ascend to the prime minister post, has turned into a chance for Kishida to fully express his own political colors.
Besides, Kishida is expected to face a smooth period of three years before the next election, often called the "golden three years", when the leading coalition has a majority in both houses and can forward its parties' agenda. Japanese politics is now interested in when and how Kishida will appoint the cabinet and the party members. In relation to this, Kyodo News reported that Kishida may carry out a Cabinet and party reshuffle in September.
However, the constitutional revision issue, which is of great interest not only to Japan but also to its neighboring countries including South Korea and China, is expected to be pursued according for Mr. Abe's 'guidance'. Earlier, the LDP showed its will to amend the constitution by proposing four areas of change, including the explicit recognition of the "Self-Defense Forces".
Kishida said that he would also actively seek to amend the constitution. On the night of the election, when his victory was virtually confirmed, he made a TV appearance and said addressing the COVID-19 pandemic, Russia's invasion of Ukraine and rising prices would be his priorities. He said he will also steadily push for reinforcing Japan's national security as well as constitutional amendment.