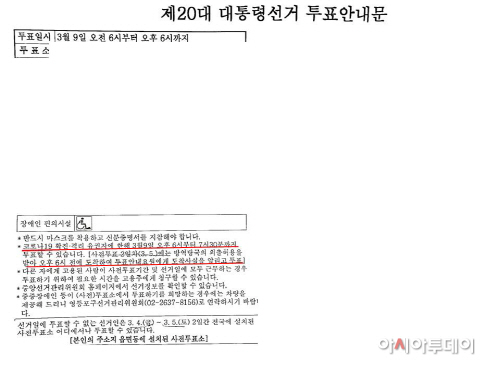 A voting notice for the upcoming 20th presidential election delivered to homes./ Photographed by Lee Sun-young
AsiaToday reporter Lee Sun-young
With South Korea's 20th presidential election just a week away, voting time for COVID-19 patients and those in self-isolation is sparking concerns.
According to the National Election Commission (NEC), voters with active cases and those under self-quarantine will be able to vote in person on the day of the presidential election, March 9, past the regular hours, from 6 to 7:30 p.m. They are also allowed to vote on the second day of advance voting, March 5. They will be allowed to go out from 5 p.m. and vote only if arrived at the voting booth before 6 p.m.
Observers point out that the voting time is insufficient as only 2 hours and 30 minutes are given to the positive voters and those in self-isolation to vote.
As the country sees some 150,000 to 200,000 new confirmed cases every day, over 1 million people could be under self-quarantine by the time of the election, raising concerns that the voting time given to them may be too tight.
As of Wednesday, there are 820,678 patients under at-home treatment. Health authorities estimate that the number of newly confirmed cases could increase to 250,000 and the number of critically ill patients to 1,200 on the election day due to the spread of the omicron variant.
"It takes a long time to get tested. It seems difficult to vote in time because there are so many confirmed people," Kim, a 26-year-old office worker who took a PCR test, said. "Those unconfirmed people would be anxious about the situation where they have to go to the same polling place that confirmed patients go," Kim said.
In the 21st general election, which was held after the outbreak of the COVID-19 pandemic, on-site voting was carried out for unconfirmed quarantined voters. But at the time, the number of new confirmed cases was around 20 for three days in a row and only 13,000 people actually cast their ballots. This is an insignificant figure compared to the number of recently confirmed patients. Regarding estimation of the number of confirmed patients expected to take part in voting, senior health official Sohn Young-rae said, "It is difficult to predict at this time."
Initially, the ruling and opposition parties proposed to extend the voting time to 9 p.m. from 6 p.m. on Election Day, fearing that up to 1 million voters would not be able to exercise their voting rights in the election due to infection and self-isolation. However, the National Election Commission expressed disappointment, saying that extending voting time until 9 p.m. would cause the additional cost of up to 22.6 billion won.
In response to the point that COVID-19 patients may not be able to properly exercise their voting right, health authorities explained that those who have been confirmed or quarantined who arrive by the specified time can vote.
"Voters do not have to finish voting by 6 p.m. on the early voting day, but they have to arrive by 6 p.m.," said Park Hyang, a senior health ministry official.