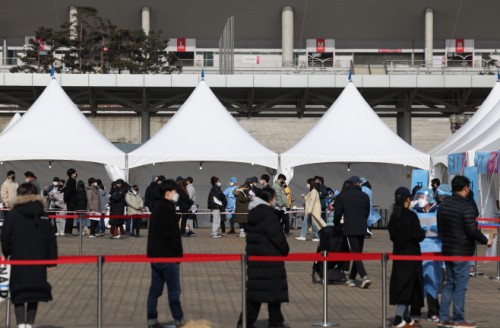 Citizens line up to undergo COVID-19 tests at a testing station in Seoul on Feb. 9, 2022./ Source: Yonhap
AsiaToday reporter Park Ah-ram
South Korea's daily COVID-19 infections rose sharply to hit another high of nearly 50,000 on Wednesday amid the fast spread of the highly transmissible omicron across the nation. With the recent increase in the use of self-test kits under the country's new medical response guideline, public concerns are growing over the accuracy of self-test kits as many cases with different self-test kits and polymerase chain reaction (PCR) test results have been confirmed.
According to the medical community on Wednesday, only 76.1 percent of those who tested positive at screening clinics in four regions – Gwangju, Jeonnam, and Gyeonggi Province's Pyeongtaek and Anseong – from January 26 to 31 were confirmed to be positive in PCR tests. About 1 in 4 people had false-positive result who were not actually infected. Singer and musical actor Kim Jun-su underwent rapid antigen test five times, which all turned out to be negative, before being confirmed on February 6.
Under the government's new system, among those who are not in high-risk groups, only those who test positive in a rapid test are able to receive PCR tests.
As questions about the accuracy of self-test kits are rising, the Ministry of Food and Drug Safety said that self-test kits' sensitivity and positivity predictability have different concepts, and that self-test kits don't have low accuracy.
The food ministry allows only those self-test kits with more than 90% of sensitivity and 99% of more of specificity through clinical trials.
According to the ministry, if a self-test kit with a 90% sensitivity and a 99% specificity is used in a situation where 3 out of 100 people are infected, the positivity predictivity is 73.6%. However, if such self-test kit is used when 10 out of 100 people are infected, the positivity predictivity increases to 90.9%. In other words, as the number of infected people increases, the possibility to diagnosing infected people increases, while the number of infected people decreases, the possibility of diagnosing infected people decreases.
In this regard, the ministry said that "sensitivity and specificity are indicators that show the performance of a diagnostic tool much better than positivity predictivity. Numbers may be different but it doesn't mean accuracy is reduced."
"The virus tends to hang out in the upper respiratory system after infection with the omicron and is highly transmissible. Therefore, a quick diagnosis is important," said Cheon Eun-mi, a professor at Ewha Womans University Mokdong Hospital. "It would be possible to diagnose early and effectively prevent the spread of the virus if you check positivity in PCR test after testing positive in two or more self-tests," she added.
Meanwhile, the country reported 49,567 new COVID-19 infections on Wednesday, raising the total to 1,131,248, according to the Korea Disease Control and Prevention Agency (KDCA). New infections have soared by nearly fourfold over the past two weeks over the omicron variant.