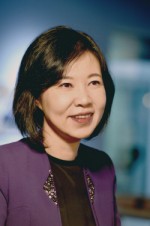 Novelist Kim Byul-ah
By novelist Kim Byul-ah
My one year-old baby pretends to wear a face mask hanging on the wall when he gets bored in the house. Wearing a mask means to him going outside. The world through the eyes of a child would be a place full of mask-wearing people with half of their faces covered and carefully maintaining physical distance from others. Breathing through a mask, checking body temperature and using hand sanitizer would be something obvious. I feel sorry for the baby who has not lived in a world without COVID-19, and I feel miserable because I have lived in a world without the virus.
Not long ago, I read one of my previous essays while arranging my manuscript for republishing. The essay said, "Someday, in the near future, we will overcome many serious health challenges such as cancer and AIDS. But more powerful and virulent virus will wipe out the human race." It was an essay on environmental pollution that I wrote about a decade ago. I was rather dumbfounded than pleased because my premonition was right. I didn't know by then. I never expected that the pandemic would occur without warning.
2020 has been an unforgettable and strange year. The term "social distancing" has become more common, and every kind of group activities has been either stopped or reduced. The government restricted the public from visiting friends and families while encouraged people to eat alone. More number of stores has been closed under the COVID-19 restrictions. The virus has divided and isolated people. It paralyzed all social activities and the economy that have been working through people's connections.
Good luck and bad luck are neighbors. While COVID-19 has accelerated the trend toward telecommuting, it has also threatened people's livelihood activities. Suffering and misery are not a competition. The past days have been tough and painful for everyone. That's why I feel relieved leaving 2020. Go! Let's never meet again.
The coming year is unlikely to be free from the impact of 2020. Although the doors are open to overcoming the infectious disease with the development of vaccines and treatments, herd immunity and revitalization of the economy is still a long way away. We must endure until everything is restored. We are more desperate than ever enduring the moment.
What does it take to endure? Ancient Greek poet Sophcles said, "It is hope that maintains most of mankind." Hope is not a dream or an ideal. So many people have fallen into despair, both economically and psychologically, amid prolonged COVID-19 pandemic. Hope is the only thing that keeps you going. But it is difficult to create hope all alone. We should hold hands to create hope together.
We need to take care of the people around us. Patients and medical workers fighting against the virus, self-employed and small business owners who closed their stores, students and parents who are tired of online class, job seekers, and more. We need to embrace our community. We need to reach our hands even though we cannot hold hands.
This too shall pass. It must pass. One day, you will remember 2020 as one of the strangest years you have had. So let's endure one more day. I wish you good health and happiness in the coming year and always.