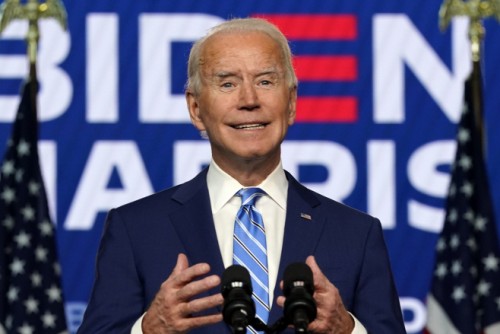 Joe Biden speaks at the Chase Center on the Riverfront in Wilmington, Delaware, on November 4, 2020./ Source: Wilmington AP=Yonhap News
Washington correspondent Ha Man-joo
US Democrat presidential candidate Joe Biden is expected to win in the election held on Tuesday.
As of Thursday night, Biden held 265 Electoral College votes, just six away from the presidency, with ballot counting still continuing in several battleground states.
Biden is slightly leading in Nevada, securing 49.3 percent of votes, with about 86 percent of votes counted. Although he is behind in Pennsylvania, Georgia and North Carolina, he is reducing the gap between him and Trump quickly, with the mail-in ballots skewing towards Democrats. Therefore, he is expected to secure the necessary 270 soon.
This is because Pennsylvania and Nevada have 586,000 and 160,000 more Democrats, respectively, than Republicans among mail-in ballot voters who registered their party.
"It's clear we're winning enough states to win 270 electoral votes to win the presidency," Biden told a small group of reporters at the Chase Center on the Riverfront in Wilmington, Delaware.
Despite his whirlwind campaign blitz, US President Donald Trump failed to overcome unfavorable factors, such as responding to the pandemic which led to sharp decline in employment as well as economic growth.
However, it will likely to take some time for the final result to come out since Trump is refusing to accept election results and planning legal battles with claims about mail voting.
Some Trump supporters protested at voting center in Phoenix, Arizona, a state the Republican won in 2016.
If Biden takes office, he is expected to focus on uniting the divided nation.
"I will govern as an American president," Biden said. "There will be no red states and blue states when we win - just the United States of America."
Also noteworthy is the launch of the Biden administration will have on the Korean Peninsula. Experts on the Korean Peninsula believe that the elements of conflict between Seoul and Washington, such as the threat of reducing US forces in South Korea and a significant share increase of defense spending, would eventually disappear while negotiations on North Korean denuclearization would be pushed out of the US foreign policy priorities.
In addition, many observers believe that the trade war between the US and China will ease to a certain degree, contributing to the increase in global trade – a positive factor for the growth of the South Korean economy, which is highly relying on exports.