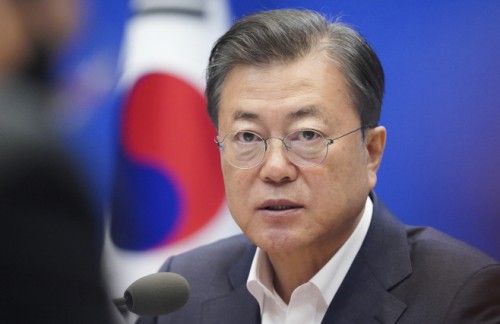 President Moon Jae-in speaks at the 5th weekly emergency economic council session on April 22, 2020./ Source: Yonhap News
By AsiaToday reporter Lee Seok-jong
President Moon Jae-in on Wednesday decided to inject 40 trillion won of national tax into South Korea's key industries to help them overcome the crisis from the novel coronavirus pandemic and to protect the country's job market.
As the government decided to inject enormous amount of money to support the key industries, there are growing voices urging the country's top conglomerates, such as Samsung Electronics, Hyundai Motor, SK, and LG that are running the basic industries, to fulfill their social responsibilities corresponding to the support.
Although the top conglomerates are the backbone of the economy and employment, the government's decision to support them is expected to make their social responsibility heavier.
Moon announced the massive relief package at the 5th weekly emergency economic council session on the economic and financial fallout of COVID-19 held at Cheong Wa Dae. "The key industries that greatly affect the country's economy and employment are under threat. I will urgently create a fund worth 40 trillion won to overcome the crisis and to protect the country's job market," the president said.
"A growing number of companies are finding it difficult to overcome difficulties with the government's temporary financial support or supply of liquidity," Moon said. "Through the key industry stabilization fund, the government will prevent key industries from falling."
"We will mobilize all means to protect them, including investment and payment guarantees. We will make sure to shield those key industries at any cost with strong determination," he said. His remarks seem to have been taken into account when major companies went bankrupt during the financial crisis in 1997.
However, Moon said that responsibilities corresponding to the support would be placed on the corporations. "Mechanisms to ensure overall employment being maintained, effort on their part, profit sharing will be established," he said.
"State support will only be given under the condition of guaranteeing job security, and measures for preventing moral hazard - such as limiting salaries and dividends, and prohibiting stock repurchases - will be attached," the president said.
President Moon also revealed his plan to inject another 35 trillion won on top of the 100 trillion won virus relief package decided at the 1st and 2nd emergency economic council session, to expand aid for small merchants and state bond purchases for companies below investment grade.
The president also unveiled an additional job protection scheme that involves spending 10 trillion won to cushion the COVID-19 impact on the country's job market. "The measures will focus on preventing an employment crisis while dramatically reducing blind spots in labor-related social security," he said.
He also said the government will play a leading role in creating jobs, adding that half a million will be offered. "The public sector's hiring process will be normalized as soon as possible."