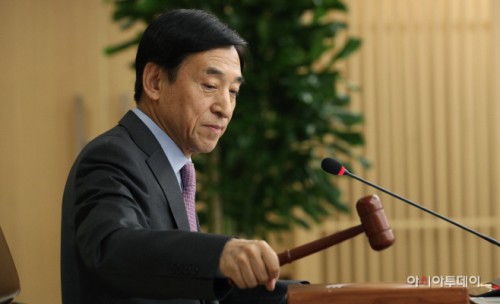 Bank of Korea Gov. Lee Ju-yeol bangs the gavel to open an emergency Monetary Policy Committee meeting at the central bank in Seoul on March 16, 2020./ Source: Bank of Korea
By AsiaToday reporters Jung Dan-bi
South Korea's key interest rate has fallen below 1 percent for the first time in history. The Bank of Korea (BOK) on Monday has slashed interest rates amid growing concerns of economic damage from the COVID-19 pandemic. This marks the third time that the central bank has cut interest rates following the 9/11 attacks in the US in 2001 and the global financial crisis in 2008. This suggests that the central bank is looking seriously at the impact of COVID-19 on the domestic economy.
The problem is that the central bank's decision could have a considerable impact on the financial sector. The BOK's rate cut action is forecasted to cut the net profits of the five major commercial banks in the country by nearly 1 trillion won.
The BOK held an emergency monetary committee meeting presided by BOK Governor Lee Ju-yeol and lowered its policy rate to 0.75 percent from 1.25 percent. It is the first time the nation's benchmark rate dropped below 1 percent.
The BOK's rate-setting panel had frozen the key interest rate at the current 1.25 percent on Feb. 27, however its latest emergency action comes amid concerns of the rapidly contracting real economy and a global recession as the COVID-19 outbreak turns into a global pandemic. Besides, the US Federal Reserve took the drastic step of cutting its benchmark interest rate to near zero on March 15 in response to the aftermath of the virus.
"Since the last Monetary Policy Board meeting, concerns about a global economic slowdown have deepened with COVID-19 spreading globally," the BOK said. "As a result, the volatility of major price variables such as stock prices and exchange rates in financial markets at home and abroad increased greatly and international oil prices fell sharply. Therefore, the board judged that further monetary policy accommodation is called for in order to ease volatility in the financial markets and reduce the effects on future economic growth and inflation," it added.
The BOK's decision is expected to hit financial companies hard. Some market observers believe that the net profits of commercial banks such as Shinhan, Kookmin, Hana, Woori and Nonghyup Bank may disappear by about 1 trillion won this year due to the cut in interest rates. This is because the banks' net profit is expected to decrease by 100 billion won each time the benchmark interest rate goes down by 0.25 percentage point.
"We believe that the delay in payments or the threat of financial soundness due to the toughening real economy could be a bigger problem than decreased profits from immediate interest rate cuts," Lee Dae-ki, chief researcher at the Korea Institute of Finance (KIF), said.