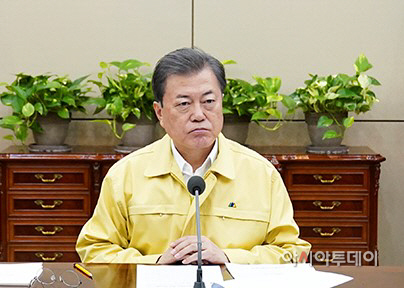 President Moon Jae-in/ Source: Cheong Wa Dae
By AsiaToday reporter Lee Seok-jong
President Moon Jae-in declared the city of Daegu as well counties of Cheongdo and Bonghwa and the city of Gyeongsang in North Gyeongsang Province as special disaster zones Sunday. This is the first time South Korea has declared a certain area as a special disaster zone from an infectious disease, not natural disasters.
"President Moon Jae-in declared Daegu and some regions in the North Gyeongsang Province as special disaster zones at 2:10 p.m.," the presidential Cheong Wa Dae spokesperson Kang Min-seok said.
The Framework Act on the Management of Disasters and Safety and its Enforcement Decree allow the President to declare a special disaster zone for the region where natural disasters over a certain scale or social disasters, that require government support as they are difficult to tackle only by administrative and financial abilities of local governments, occur.
The sufferers of the specials disaster zone declared by the President are entitled to emergency relief and special administrative, fiscal, financial and medical support necessary for recovery from the government and local governments.
The move will also permit affected people to receive state support for their living expenses, tax cuts, as well as reductions to health public health insurance fees and utility bills.
The President approved the declaration after Prime Minister Chung Sye-kyun, head of the Central Disaster and Safety Countermeasure Headquarters, made the recommendation following a related government meeting.
"The sudden spread of COVID-19 has caused great damage to Daegu and North Gyeongsang, and the damage has reached a level that the region cannot handle," Chung said. "Based on the regional request, I officially proposed to the President to declare Daegu, Cheongdo, Gyeongsan and Bonghwa regions as special disaster zones, and the President immediately made the declaration."
"The designated areas have reported 83 percent of total infections and 87 percent of deaths, causing fatal human damage. Daily life and economic activities of 2.7 million local residents of the region have stopped," the prime minister said.
"It is the first time that a region has been designated as a special disaster zone due to an infectious disease. The declaration reflects the government's commitment to swiftly overcome the situation in Daegu and North Gyeognsang at the national level," Chung said.
"As the battle against COVID-19 goes on, the government will review whether to make additional designations depending on the extent of the damage," he said. "The designation is just the start of our recovery efforts. We will be reviewing the damage and will draw up measures for recovery and restoration."
The government had earlier designated Daegu, Cheongdo and Gyeongsan as "special management zones." Nevertheless, Daegu Mayor Kwon Young-jin and North Gyeongsang Province Gov. Lee Cheol-woo, who have been struggling to tackle the coronavirus crisis, requested that the government take the measure.