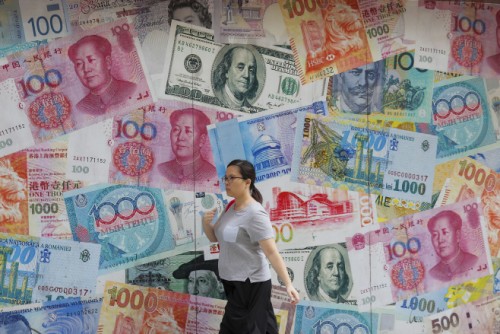 The United States and China have begun imposing additional tariffs on each other's goods, intensifying their trade war. The photo shows a woman walking past a money exchange shop decorated with different banknotes at Central, a business district of Hong Kong./ Source: Hong Kong AP=Yonhap News
By AsiaToday Washington correspondent Ha Man-joo
The trade war between the United States and China has escalated with the world's two largest economies imposing additional tariffs on each other's goods on Sunday.
The U.S. government's new tariffs of 15% on $112 billion of Chinese imports kicked in at 12:01 a.m. Sunday.
Among Chinese imports worth $300 billion that the United States previously hinted at imposing additional tariff on, the Trump administration began collecting 15% tariffs on about $110 billion in imports from China, covering 3,243 items. It will impose 15% tariffs on the remaining $156 billion in Chinese imports from December 15.
Consumer goods account for about half of items on the list for 15% tariffs.
"Many everyday grocery items and household staples will be targeted," CNBC said.
The Nikkei Asian Review reported that the average American tariff on Chinese goods has risen to above 21% with the September duties, including the 25% tariff on $250 billion in Chinese imports, which is slightly above the average tariff of nearly 20% in the early 1930s during an American turn toward protectionism.
In retaliation, China also imposed additional tariffs on U.S. goods. According to Xinhua News Agency, China on Sunday started to impose new tariffs on some of the U.S. goods worth $75 billion. The tariffs range from 5 percent to 10 percent on 1,717 items of a total of 5,078 products originating from the United States.
Beijing will start collecting additional tariffs on the rest of the items from December 15 as the countermeasure against Washington. The Chinese authorities announced that it will reinstitute a 25% tariff on U.S.-made vehicles and a 5% tariff on auto parts on Dec. 15. In the midst of the U.S.-China trade war, the two remain open to negotiations.
"There's a talk scheduled for today, at a different level," U.S. President Trump said in an interview with Fox News last Thursday. "We have been talking, we continue to talk." Trump also told reporters on Friday that the talks are expected to take place in September and that they have not been canceled.
China also emphasized the need to continue negotiations while promising countermeasures in the trade war. "Chinese and U.S. trade negotiating teams are maintaining effective communication," China's commerce ministry said. "A September round of meetings are being discussed by the two sides."