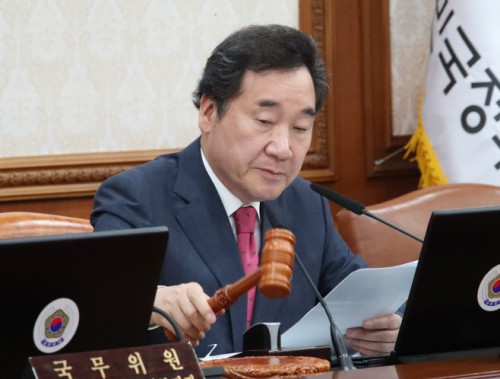 Prime Minister Lee Nak-yon presides over the 15th Cabinet meeting at the Government Complex in Seoul, Wednesday./ Source: Yonhap News
By AsiaToday reporter Ahn Jong-ho
The government has drawn up a 6.7 trillion-won (US$5.9 billion) supplementary budget. This is the third extra budget since President Moon Jae-in took office in May 2017. Although the government said the budget is aimed to curb fine dust and revitalize the slowing economy, it set aside the largest portion of the budget to expand unemployment benefits for those between jobs and to create jobs, sparking criticism.
The government held a Cabinet meeting on Thursday and announced the 2019 extra budget bill.
It allocated 2.2 trillion won ($2 billion) to reduce some 7,000 tons of fine dust and secure the safety of people from national disasters. The government forecasts that injecting 4.5 trillion won ($3.9 billion) to the slowing economy would boost the country's economic growth by 0.1 percentage point this year.
However, there are concerns that the government allocated large amount of money for regional development, such as building roads and ports, to win the favor of voters for the next year's general election.
Given that the extra budget is allocated when the economic situation is in case of emergency, some point out the extra budget proposal that includes measures to strengthen marketing campaigns to attract foreign tourists from Southeast Asia and China as well as to hold K-pop festivals is ill-timed and inappropriate.
There is also criticism that the budget proposal is far below the International Monetary Fund (IMF)'s recommended amount of nearly 10 trillion won, or 0.5 percent of the gross domestic product (GDP). The government allocated 4.5 trillion won to stabilize the economy.
The amount is similar to the previous year's 3.8 trillion won. Last year's extra budget contributed to only 0.06 percent of the GDP.
"It seems the government has proposed the extra budget since there is no other alternatives. However, it would be a better path to change its 52-hour work week system and minimum wage hike policies in order to revitalize the economy," said Yoon Chang-hyun, an economist at the University of Seoul. "Because the current economic conditions are tough, the extra budget won't lead to major changes," he added.
The government plans to secure finances by using last year's budget surplus of 400 billion won and funds run by state-owned companies worth 2.7 trillion won, and issuing 3.6 trillion won in debt.
It plans to submit the extra budget bill to the National Assembly on Thursday. Due to rival parties' resistance, it seems hard for the bill to pass the parliament by May.