By Hong Soon-do, Beijing correspondent, AsiaToday
Chinese President Xi Jinping's closest aides are likely to take government posts to be confirmed at the 13th National People's Congress (NPC). It means that the government will be dominated by Xi Jinping. In this case, the premier's position, which is considered the No. 2 position in the Chinese government, could fall greatly.
Wang Qishan, a key ally to Chinese President Xi Jinping and the former secretary of the Central Commission for Discipline Inspection, is likely to be appointed vice-president next year, according to Beijing sources familiar with the internal information of China's ruling party on Thursday. Although officially retired, Wang is expected to keep influencing policy to wrap up the inspection he had led since 2012. Many observers say that the move was strongly intended by Xi, who had previously considered not to let Wang from retirement.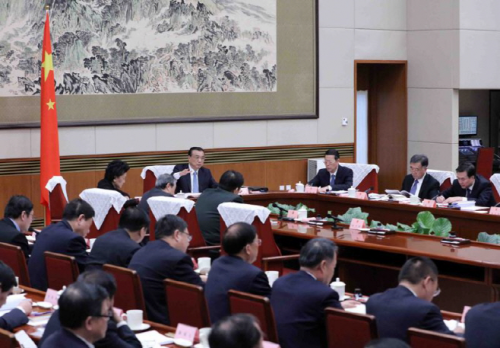 A general meeting of the State Council, the Central People's Government, being held. A majority of high-ranking officials is expected to be filled with Xi Jinping's close allies by March next year./ Source: Xinhua News
For the post of a vice-premier in charge of the economy, the strongest candidate is Liu He, the chief of the General Office serving the Leading Group for Financial and Economic Affairs who is known to be Xi's middle school classmate and his policy mentor. He fully meets the requirements since he has entered the 25-member Politburo of the Communist Party at the 19th National Congress, which wrapped up on October 24.
Yang Jiechi, a state minister who served as a control tower for diplomacy over the past five years, can be elevated to a vice-premier. If promoted, he will be the first vice-premier for foreign affairs. The fact that he is familiar with the United States and that he's fluent in English is what makes him a strong candidate. If he gets promoted, the vacant post will be taken by current Foreign Minister Wang Yi. The Foreign Minister position is highly likely to be taken by either Wang Chao or Li Baodong, the young bloods of the Foreign Ministry.
The head posts of other 24 ministries are likely to taken by high-ranking government officials who are favored by Xi Jinping. The most notable person seems to be Heilongjiang governor Lu Hao, who is considered as the top leader in the future. It's certain that Xi Jinping will assign him to a minister post to look farther forward.