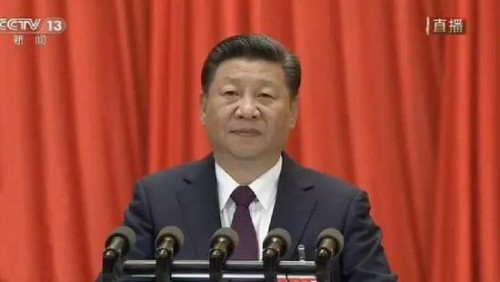 Xi Jinping at the 19th CPC National Congress in Beijing, Oct. 18./ Source: A captured image from CCTV
By Hong Soon-do, Beijing correspondent, AsiaToday
Chinese President Xi Jinping has embarked on a second five-year term as party leader as the 19th National Congress and the first general meeting of the 19th Central Committee concluded on Oct. 24 and Oct. 25, respectively. This means that Xi, who has become the most powerful Chinese leader in decades, officially kicked off his new term on Oct. 25. As a result, he will be able to take over all aspects of the national administration. This seems why foreign media outlets call him strongman along with Russian President Vladimir Putin.
Such assertion is not an exaggeration considering the fact that Xi Jinping has 12 more posts apart from being president, general secretary, and chairman of the Central Military Commission, that give him control over most areas of the military, the economy and the government. No wonder he has been hailed as the party's "core leader" last year. According to a Beijing source on Wednesday, it is certain that he will completely take control of the military, where comes the power. A good example would be Gen. Fang Fenghui, the army's former chief of the joint staff department and a former leading contender for the vice chairmanship of the Central Military Commission. He was purged right before the 19th Party Congress. The fact that Xi Jinping picked up his closest allies through a large military reshuffling ahead of the 19th Party Congress can also be seen in the same context.
It goes the same for the economy. It was customary for the premier to be in charge of, but Xi is expected to take charge of the economy directly starting on Wednesday. In fact, the term Xiconomics has appeared frequently in foreign media even before the 19th Congress. In the same context, Xi Jinping chose Liu He, his closest economic advisor, as one of the Politburo members to appoint him as a vice-premier in charge of the economy.
We don't even need to talk about diplomacy. He is likely to prove that he is a global leader through the "New Type of Great-Power Relations" theory, which emphasizes that China and the US form an equal great power status. Ultimately, he will certainly make efforts to achieve G1 position instead of G2. Prof. Fang Chang Ping from Renmin University of China said, "Xi Jinping wants to remain as a strong leader. Then he will try to give the impression that he is not falling behind U.S. President Donald Trump." After all, it's not an exaggeration to say that Xi Jinping's second five-year term will be focused on turning China into the global superpower through Xi's supreme power.