By Hong Soon-do, Beijing correspondent, AsiaToday – China is a socialist country, but its society is also divided into four classes by their economic status, just like Korean society as debaters online say. They are "gold spoon" on the top, "silver spoon," "bronze spoon", and "earth spoon" at the bottom. The division derives from the old saying describing a child from superrich families as "born with a golden spoon in their mouth." The same principle works in the entertainment industry. For a child born with an earth spoon, it's obviously a miracle to make success. On the other hand, creating miracles is a piece of cake for a gold spooner.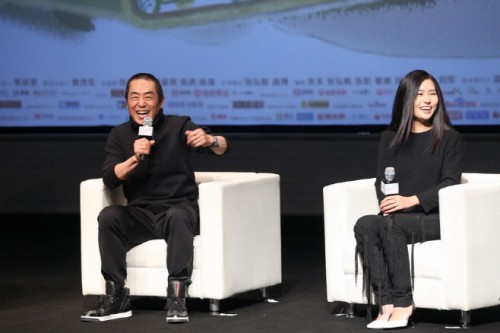 Zhang Yimou and his daughter Zhang Mo smile during a production conference./ Source: internet portal Sina.

Such case has been realized in China, attracting attention. The heroine is Zhang Mo, 33, daughter of famous director Zhang Yimou. She will make her directorial debut with "Suddenly Seventeen", which will start to hit theaters on December 9. Fully supported by her father, the director is presenting a remarkable performance with her debut movie which also has rising Taiwanese actor Darren Wang for special appearance.
According to the Dec. 4th report of Beijing Youth Daily, Zhang Mo is the daughter of Zhang Yimou and his first wife and famous writer Xiao Hua. She studied architecture in the US in her early days. However, she could not abandon the movie because of her father's influence. After studying filmmaking at New York University, she returned to China every vacation to work as her father's production crew. At the end, she helped her father as an assistant director.
Her debut film is said to be influenced by her father, who took charge as a producer to help his daughter. This is why the Chinese entertainment industry believes that the movie is actually a work of Zhang Yimou. The fact has been already revealed at the production conference held in Beijing on Dec. 4, and thus, the movie is expected to draw a massive audience.