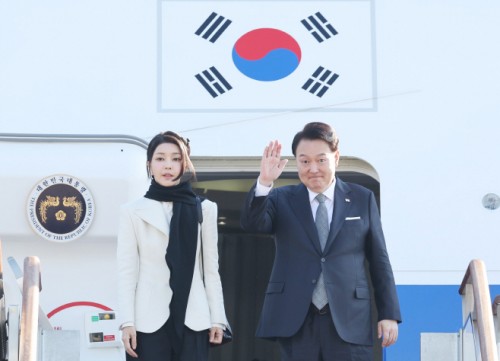 President Yoon Suk-yeol and first lady Kim Keon-hee wave before departing for London from Seoul Air Base in Seongnam on Nov. 20, 2023. /Source: Yonhap News
AsiaToday reporter Hong Sun-mi
"China will consider the harm to its international status and reputation resulting from trilateral cooperation with North Korea and Russia," President Yoon Suk-yeol said.
The president made the remarks in an interview with the British daily The Telegraph published on Monday ahead of his visit to London, stressing that North Korea, China and Russia have different interests.
Yoon's remarks can be seen as strong criticism of military cooperation between North Korea and Russia, which has emerged as an international security threat, and urging the Chinese government to make practical decisions.
Yoon said China has an important role in "promoting freedom, peace and prosperity in East Asia," and that the South Korean government has been consistently pursuing "healthy and mature Seoul-Beijing relations based on mutual respect and reciprocity."
Yoon warned of military cooperation between Russia and North Korea, labeling it as "a great violation of U.N. Security Council resolutions and a provocative act that threatens peace on the Korean Peninsula as well as in Northeast Asia and Europe." He said that he firmly opposes illegal arms trade between Russia and North Korea and will actively respond with the international community.
"The Indo-Pacific region has several geopolitical risk factors, including North Korea's nuclear threat and tensions in the Taiwan Strait and the South China Sea," Yoon said. "The South Korean government has emphasized the importance of peace and stability in the Taiwan Strait and establishing a rule-based maritime order in the region, including the South China Sea."
"South Korea is pursuing very close security cooperation with its ally the United States as well as the United Kingdom and Australia, and will strengthen strategic cooperation with major normative partners in the Indo-Pacific region such as Australia, Canada, and Japan," he said.
President Yoon also expressed his willingness to strengthen cooperation with the U.K.
"In this visit, the two countries will develop future-oriented cooperation in various fields such as politics, economy, advanced science and technology, human exchanges, and strengthen cooperative partnerships in various fields such as digital and artificial intelligence, cyber security, nuclear power plants, defense, bio, space, semiconductor, offshore wind power, clean energy, and maritime affairs," he said.
President Yoon departed Monday for a seven-day trip to U.K and France. He is Britain's first state guest invited by King Charles III since the coronation in May.