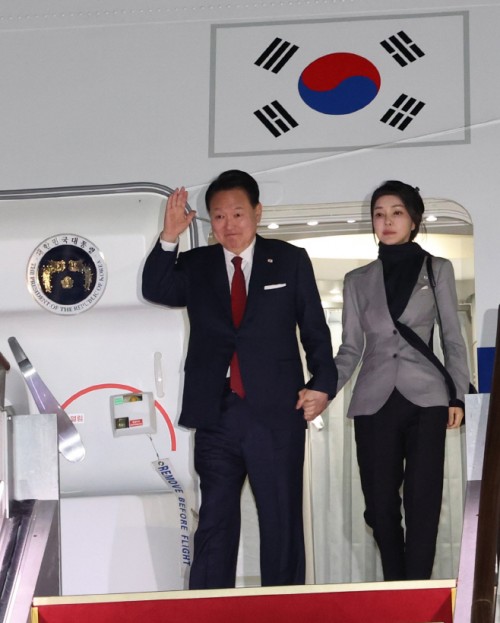 President Yoon Suk-yeol and first lady Kim Keon-hee return home from San Francisco where they participated in the Asia-Pacific Economic Cooperation summit on Nov. 18, 2023./ Source: Yonhap News
AsiaToday reporter Park Ji-eun
Analysts say South Korean President Yoon Suk-yeol has made considerable achievements with his attendance at the Asia-Pacific Economic Cooperation (APEC) summit in San Francisco, by showing off the country's solidarity with the United States and Japan, and securing 1.5 trillion won (US$1.16 billion) in investment commitments from U.S. companies, and making efforts to bring the 2030 World Expo to Busan. After returning home from the APEC, Yoon is scheduled to take care of major domestic issues before departing again on a six-day visit to UK and France on Monday for a final diplomatic campaign to host the World Expo.
During the three-day U.S. visit, Yoon called on APEC member economies to work together to accelerate global economic connectivity, such as establishing supply chains and restoring a multilateral trade system, while warning of North Korea-Russia military cooperation and calling for international cooperation. At the summit of the Indo-Pacific Economic Framework (IPEF) held on the sidelines of the APEC gathering, Yoon discussed ways to restore regional supply chains, including supplying key minerals. He also met with Apple CEO Tim Cook, who has a long relationship with South Korea, drawing great attention.
The trip is considered to have demonstrated the strength of trilateral cooperation among South Korea, the U.S. and Japan and the will to continue the momentum at home and abroad following the Camp David summit in August. Yoon's office said the three leaders of the countries held a separate meeting together, where US President Joe Biden expressed gratitude to Yoon and Japanese Prime Minister Fumio Kishida for "easing his burden as he performs his duties as the president of the United States."
An official from the presidential office explained the details of the closed-door meeting, saying, "It seems the leaders acknowledged the successful functioning of their trilateral comprehensive cooperation scheme established during the Camp David summit, and that high-level dialogue channels between them are actively operating to implement it."
Yoon and Kishida also held a separate bilateral summit at APEC, highlighting their continued cooperation.