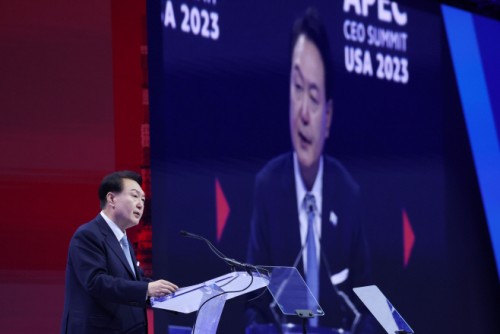 President Yoon Suk-yeol speaks during the Asia-Pacific Economic Cooperation forum's CEO Summit at the Moscone Center in San Francisco on Nov. 15, 2023. / Source: Yonhap News
AsiaToday reporter Hong Sun-mi
"Reinforcement of supply chain resilience should be pursued as APEC's top priority like setting up an early warning system within APEC and sharing the experiences of each member country," President Yoon said on Wednesday.
The president, who is on a visit to San Francisco to attend the Asia-Pacific Economic Cooperation (APEC) summit, made the remarks in his keynote speech at the APEC CEO Summit. "Resilient supply chains form the core of the multilateral trading system," he said.
Yoon suggested that three areas of trade, investment, and supply chains, as well as digital and future generations should be strengthened to enhance connectivity in the APEC region.
Yoon hailed APEC's efforts toward promoting free movement of goods and services in the region, saying, "In order for the world economy to once again restore its dynamism and continue sustainable growth, APEC must stand at the center to accelerate the connectivity of the world economy." He stressed that APEC's role as protector of the multilateral trading system must be expanded.
On digital interconnectivity, Yoon cited examples of building concepts of ownership and free trade agreements during the 16th century, often dubbed the "Age of Exploration," during which European ships traveled around the globe to search for new trading routes, and said, "The world needs a novel standard and rule of order for the digital age." He added that the APEC as well as the United Nations is one of the "perfect platforms where the world can discuss new digital norms."
President Yoon also emphasized the importance of exchange between future generations. He suggested an exchange initiative for regional youth scientists with specific academic degrees in science who work in research and development, to guarantee free movement within the region.
Meanwhile, Yoon met with Apple CEO Tim Cook on the sidelines of the APEC summit. Cook vowed to continue investment in South Korean firms as he had a special affection for the country because his father was a veteran of the Korean War.