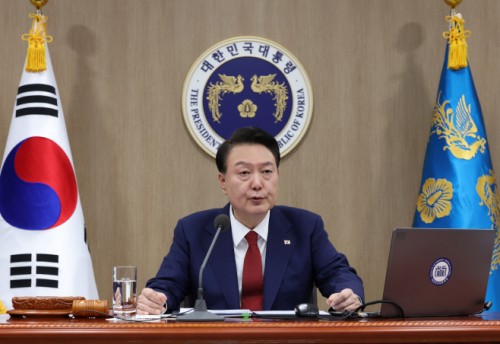 President Yoon Suk-yeol speaks during a Cabinet meeting at the presidential office in Seoul on Nov. 14, 2023. / Source: Yonhap News
AsiaToday reporter Hong Sun-mi
President Yoon Suk-yeol said Tuesday the current ban on stock short selling will remain until financial authorities devise measures for fundamental improvement.
Yoon made the remarks during a Cabinet meeting at the presidential office. "Neglecting the issue of illegal short selling would not only worsen unfair price formation issues, which can cause great losses to individual investors, but it also could undermine public trust in the stock market and cause investor withdrawal," he said.
The government has temporarily prohibited short selling in stocks from Nov. 6 through the end of June 2024. However, Yoon's latest remarks suggest that the period of the short selling ban could be longer.
"Some are concerned that the short selling ban would hamper Korea's inclusion in the MSCI Developed Markets Index. However, unlike the U.S. market, our stock market has high volatility and the proportion of individual investors is significant, which will positively influence our competitiveness in the securities market in the long term," Yoon said.
Yoon asked the financial authorities to create a "level playing field" and seek fundamental solutions to protect retail investors.
Following Tuesday's meeting, Yoon will fly to San Francisco on Wednesday to attend a meeting of the Asia-Pacific Economic Cooperation (APEC) and the Indo-Pacific Economic Framework later this week. Yoon said he expects to discuss supply chain diversification and ways to boost trade and investment at the APEC meeting. Returning to Seoul on Saturday, Yoon will leave for Europe to visit London and France. Yoon told his Cabinet that Seoul and London are poised to adopt the "Korea-UK Accord" and expand the future-oriented partnership of the two countries in multiple layers.