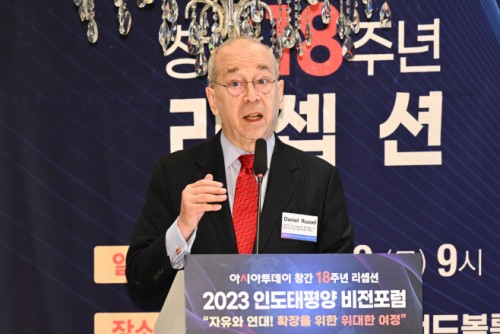 Daniel Russel, former U.S. Assistant Secretary of State for East Asian and Pacific Affairs, delivers a presentation at AsiaToday's Reception and Indo-Pacific Vision Forum 2023 in celebration of its 18th anniversary held at the CCMM Building in Seoul on Nov. 9, 2023. / Photographed by Jung Jae-hoon
AsiaToday reporter Joo Young-min
Daniel Russel, former U.S. Assistant Secretary of State for East Asian and Pacific Affairs, stressed on Thursday that the "US-ROK-Japan trilateral partnership must be made more resilient and durable to outlast any one administration in each of the three countries."
His remarks imply that the three countries are facing an era of co-prosperity and new cooperation, but securing sustainability is the most urgent task.
In particular, he explained that a "secure and prosperous future can be shaped" through "the US-ROK-Japan trilateral partnership in response to North Korea's provocations," "trilateral cooperation for resilient supply chain establishment to check China," "regularizing summit meetings and high-level consultations among three countries," and more.
He made the remarks as a presenter of the theme of the Indo-Pacific Vision Forum 2023 hosted by AsiaToday in Seoul.
"The US-ROK-Japan trilateral partnership launched at the Camp David Summit is vital to the national security and economic interests of the three countries, and close trilateral security cooperation is indispensable for addressing challenges posed by North Korea and China," he said. "Institutionalizing trilateralism and strengthening ties between Japan and Korea are of paramount importance in order to sustain the partnership through potential difficulties and the uncertainties of the future," he said.
"The strength of the trilateral partnership plays a significant role in deterring North Korea, in defending our populations, and gives us greater options for responding effectively to its provocations," he said. "Coordinated trilateral efforts encompassing missile defense, intelligence sharing, joint exercises, and improved interoperability help us safer. It can also help enhance sanctions to impede North Korea's access to the resources, material, and technology it needs to advance its illegal weapon programs."
"The trilateral partnership is a powerful force for upholding a free and open Indo-Pacific region and resisting economic coercion or harassment of smaller countries," he said. "Coordinated strategies among the three can produce more resilient supply chains, and help maintain stability across the Taiwan Strait. It can benefit other countries in the region such as public health, climate resilience, entrepreneurship, development assistance, and education – setting an example that we would like China to follow."
The former US. Assistant Secretary of State called for regularizing summits and high-level consultations among the three countries, saying, "Creating trilateral working groups and task forces can complement the work of other regional groupings and institutions." He said that there may be value in establishing a trilateral coordinating office where officials from the three countries can be assigned.
However, he said that the Korea-Japan relationship must grow stronger to support sustained trilateral progress. "It is important to build public support in each of the three countries by generating tangible benefits for citizens, by proving that his form of cooperation is successful, and by avoiding insensitive words or deeds that give offense and put strains on the relationships."