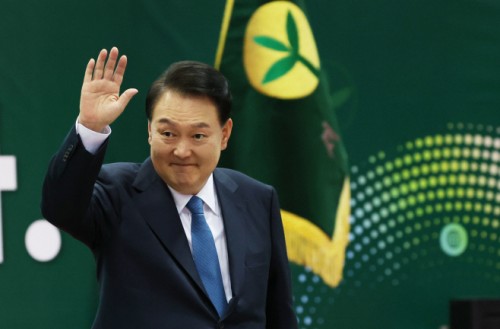 President Yoon Suk-yeol greets after a congratulatory speech at the 2023 National Saemaul Leaders' Conference held at KINTEX in Goyang, Gyeonggi Province, on Nov. 12, 2023. / Source: Yonhap News
AsiaToday reporter Hong Sun-mi
President Yoon Suk-yeol on Sunday called for recreation of the Republic of Korea of rapid growth in the past and its glory based on Saemaul Movement.
Yoon attended a ceremony of the National Saemaul Leaders' Conference 2023 held at KINTEX in Gyeonggi Province, and said, "We must reflect on the spirit of Saemaul, which has produced rapid growth in the past, and unite with innovation and creativity." This is Yoon's second time attending the Saemaul Leaders' Conference.
"The remarkable growth and prosperity of the Republic of Korea has been possible because of the people's will to 'live wealthily' and the belief that 'it can be done.' There was a great leader who led this will and belief happen," the president said.
"Let's live wealthily" was the slogan of the Saemaul Movement led by former President Park Chung-hee in the 1970s. President Yoon praised former President Park Chung-hee as a "great leader." Earlier, Yoon also had praised Park Chung-hee's achievements to Park's daughter and ex-President Park Geun-hye during his visit to Daegu last week.
"I hope that members of the Saemaul Movement will become the main players of the Republic of Koea and the new nation of the people again," Yoon said.
Referring to the recent launch of the National University Saemaul Club Association and the National Youth Saemaul Association, Yoon said, "I'm very happy and encouraged to see that the Saemaul Movement continues in the hearts of the future generations."
"The Saemaul Movement, which led community improvement and rural development in the past, has now developed into a movement that leads innovation in cities, workplaces, and industries," he said. "Such innovation movement will spread throughout the global community and make Korea become a global pivotal state."
The event was attended by 7,000 people, including People Power Party (PPP) chairman Kim Gi-hyeon, PPP floor leader Rep. Yun Jae-ok, Interior Minister Lee Sang-min, Rep. Ahn Cheol-soo and Rep. Song Seok-joon of the People Power Party, senior presidential secretary for civil society Kang Seung-gyu, and Korea Saemaul Undong Center President Kwak Dae-hoon.