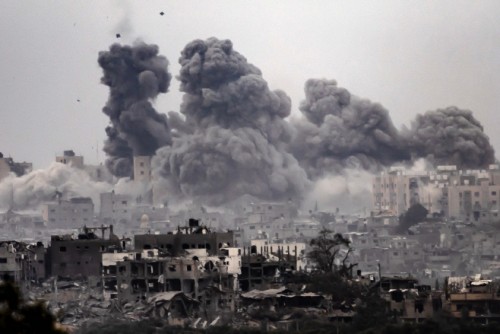 A picture taken from Israel's southern city of Sderot shows smoke rising during Israel bombardment of the Gaza Strip on October 29, 2023. / Source: AFP-Yonhap News
AsiaToday reporter Lee Jang-won
Israel, which declared a second stage of the war, seized Sunday parts of northern Gaza and killed a number of Hamas militants in Hamas subterranean tunnels.
The Israel Defense Forces (IDF) exchanged gunfire with Hamas in a vast labyrinth of tunnels that Israel has named the "Gaza metro." The Israeli military said it had killed several gunmen of Hamas troops.
Israeli forces began Thursday a campaign that is designed to eliminate Hamas, accompanied by the most intense airstrikes since the war broke out. "Israel sent more ground forces into Gaza overnight," army spokesperson Rear Adm. Daniel Hagari said Monday. "We are gradually expanding the scope of ground operations and our forces in the Gaza Strip," he said.
The Israeli military, which has repeatedly issued an urgent call to Palestinian civilians in the Gaza Strip to evacuate southward temporarily. This indicates that it has given an ultimatum ahead of a large-scale attack.
However, foreign media outlets believe that the Israeli military chose a long-term tactic to erode Hamas' fighting ability, rather than mounting mass attack. Reuters reported that Israel signaled intent to encircle Gaza City, the northern central city of Gaza.
Israeli Prime Minister Benjamin Netanyahu previously declared entry into the second phase of the war, saying that fighting inside the Gaza Strip would be "long and tough."
As the ground war is in full swing, concerns are growing over the possible war expansion with surrounding forces, including Hezbollah, an Iran-backed armed political group in Lebanon. Hezbollah launched missile and rocket attacks on Israel, and the Israeli military said it fought back, striking three Hezbollah bases in Lebanon and killing militants who were trying to infiltrate the country.