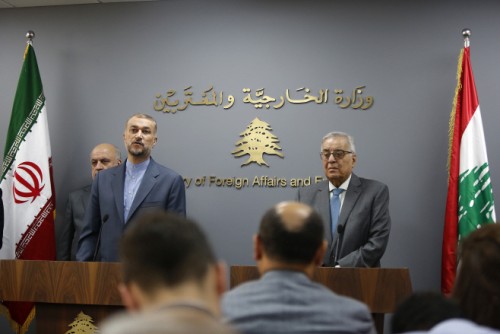 Iranian Foreign Minister Hossein Amir-Abdollahian holds a press conference with Lebanese Foreign Minister Abdallah Habib in Beirut, Lebanon, on Oct. 14, 2023. / Source: Xinhua, Yonhap News
AsiaToday reporter Lee Jang-won
Iran has warned Saturday that if Israel's retaliatory attacks, which comes after Palestinian militant group Hamas carried out attack in Israel, are not stopped then the situation could bring far-reaching consequences.
"If the Israeli apartheid's war crimes and genocide are not halted immediately, the situation could spiral out of control and ricochet far-reaching consequences – the responsibility of which lies with the UN, the Security Council and the states steering the Council toward a dead end," Iran's UN mission said.
Iran warned that if Israel attacks on Gaza continue, Tehran will have to intervene, US media Axios reported, citing diplomatic sources.
Iranian Foreign Minister Hossein Amir-Abdollahian met with UN envoy to the Middle East Tor Wennesland on Saturday in Beirut, and said that Isran has its red lines. He said that if the Israeli military operation continues – and especially if Israel follows through on its promise of a ground offensive – Iran will have to respond, according to sources. The Iranian foreign minister said that Iran does not want the conflict to turn into a regional war and wants to try to help with the release of civilians who are being held hostage by Hamas in Gaza.
After a surprise attack by Palestinian militant Hamas on Oct. 7, Israel declared retaliation and continued its airstrikes, blocking Gaza. Israeli Prime Minister Benjamin Netanyahu said that "the next stage is coming." Earlier, the Israeli military called on 1.1 million Gaza civilians, half of Gaza population, for evacuation to move to Southern Gaza, triggering speculations of an impending ground attack.