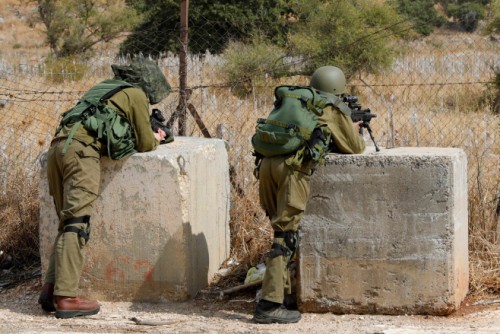 Israeli soldiers take positions near the Israeli military base of Har Dov on Oct. 10, 2023. / Source: AFP-Yonhap News
Washington correspondent Ha Man-joo
More than 2,000 people have been killed and thousands of others have been wounded after Hamas launched attacks in cities across Israel last weekend. Concerns are rising that the conflict between the Palestinian militant group and the Israel Defense Forces (IDF) could expand to the fifth Middle East war as Syria and Lebanon are joining the conflict.
The IDF said in a statement Tuesday that several mortars were fired from Syria into Israeli territory. This is the first time that the conflict between Israel and Syria has occurred since the military conflict between Hamas and the IDF began last weekend.
Lebanon's Hezbollah, one of the powerful Islamic militant groups threatening Israel along with Hamas, appears to be joining the conflict. "Palestinian factions working with the Lebanese Hezbollah fired mortar shells at the Golan Heights," said the Syrian Observatory For Human Rights, a civil war monitor. "In retaliation, Israel shelled posts of the Syrian regime in Quneitra and the countryside of Daraa," it said.
The Israeli's military also said that some of the mortar fired is believed to have landed in open areas on Israeli territory. "Soldiers are responding with artillery and mortar shells toward the origin of the launching in Syria," the IDF said.
The Golan Heights, which was shelled, is in northeastern Israel and faces both Syria and Lebanon. Reuters said that amid intensifying conflict between Hamas and the IDF, there are concerns that the conflict between the two sides could escalate into a fifth Middle East war due to Syria's shelling.
Meanwhile, Israeli Defense Minister Yoavv Gallant said, "Hamas wanted a change and it will get one," speaking to soldiers near the Gaza fence. "What was in Gaza will no longer be," he said. His remarks are seen as a warning that Israeli ground forces will advance on Gaza and break down Palestinian militants, such as Hamas. The death toll is expected to rise even more sharply if Israel begins ground warfare.
According to the Israeli and Palestinian health authorities, at least 2,150 people have died and 7,300 were wounded in Israel-Hamas war as of Wednesday.