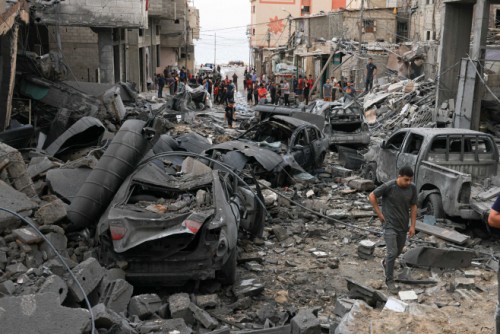 Palestinians inspect buildings hit by an airstrike in Gaza City on Oct. 9, 2023./ Source: AFP-Yonhap News
Washington correspondent Ha Man-joo
There are concerns that Gaza-Israel conflict, which began with a surprise attack by Palestinian militant Hamas and Israel's counteroffensive, could escalate into the fifth Middle East War. Israel called the Hamas attack "Israel's 9/11". Israel has declared war and believed to have launched an operation to end Hamas.
The hostilities so far have killed over 700 people in Israel and at least 413 people in Gaza, according to authorities on each side on Sunday.
Israel's death toll is believed to be higher than any other Palestinian attacks in the last 20 years. Israeli U.N. Ambassador Gilad Erdan stressed that the Hamas attack was a war crime and the Israeli version of the 9/11 incident.
Political observers say this means that Israel is aiming to end Hamas' rule of Gaza, saying it is reminiscent of the collapse of the Saddam Hussein regime in Iraq and the Taliban regime in Afghanistan by the United States in retaliation for the September 11 attacks in 2001. Israeli Prime Minister Benjamin Netanyahu said in a statement that the country was entering a "long and difficult war" imposed by the Hamas attack, and Israel's military vehicles were spotted near the Gaza border.
Earlier, Hamas launched the attack on the 50th anniversary of the 1973 Yom Kipper War, and fired thousands of rockets towards Israeli towns, and sent militants into Israeli territory. Observers say that Hamas's attack despite its inferiority in power is intended to prevent diplomatic normalization between Israel and Saudi Arabia led by the U.S. The Wall Street Journal (WSJ) reported that Iran is rumored to be behind Hamas's attack on Israel.
The U.S. immediately ordered the Gerald R. Ford Carrier Strike Group to move to the Eastern Mediterranean Sea in support of Israel. The Israeli military, which has gained support from the U.S. and the West, will try to end the war quickly before international public opinion changes.
The global economy, which has struggled to withstand the prolonged war in Ukraine, has no choice but to keep a close eye on the development of the Gaza-Israel conflict. It is clear that the situation is a risk factor for inflation and growth prospects, but some point out that it is too early to predict the impact on the global markets. Israel and Palestine are not oil producers, but WTI futures climbed more than 5 percent during the day as military clashes between them ignited fears that a wider conflict could hit oil supply from the Middle East.