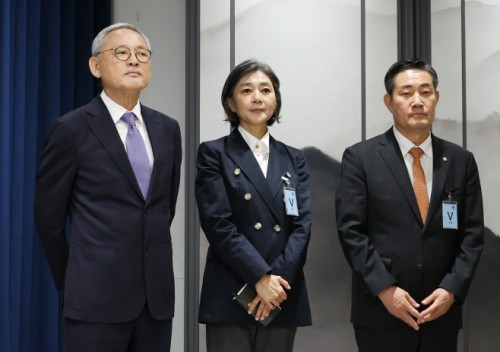 (From left) Nominees Yu In-chon for culture minister, Kim Haeng for gender equality minister and Shin Won-sik for defense minister convene at a briefing at the presidential office in Seoul on Sept. 13, 2023. / Source Yonhap News
AsiaToday reporter Hong Sun-mi
President Yoon Suk-yeol on Wednesday nominated People Power Party (PPP) Rep. Shin Won-sik for defense minister, special presidential adviser for culture and sports Yu In-chon for culture minister, and former PPP interim leadership member Kim Haeng for gender equality minister.
Presidential chief of staff Kim Dae-ki announced the second Cabinet reshuffle at the presidential office in Seoul.
Nominee Shin previously served as a policy planning officer at the Defense Ministry, as commander of the Capital Defense Command, and as chief of operations at the Joint Chiefs of Staff.
Yu In-chon is a former actor and ex-culture minister and presidential adviser for cultural affairs in the previous conservative Lee Myung-bak administration. Back in July, he was reappointed as President Yoon's adviser for cultural affairs.
Kim Haeng served as a spokesperson for the Park Geun-hye administration and a former member of the PPP emergency leadership committee.
"Nominee Shin is judged to be the best person for Defense Innovation 4.0 against North Korea's advanced nuclear and missile provocations," Kim Dae-ki said. Yu is the right person for the global spread of Korean culture while Kim is the right person to smoothly promote the work of women affairs during the transition period, according to the presidential chief of staff.
The latest reshuffle is expected to speed up the government's implementation of national affairs reform initiatives, including the implementation of Defense Innovation 4.0, abolition of the Ministry of Gender Equality and Family, and reform of public broadcasting and portal sites.
Some political observers say the reshuffle is aimed at strengthening the Cabinet's capabilities for this year's national achievement.
When asked about Yoon's decision to appoint individuals from the former Lee Myung-bak administration, a senior official from the presidential office said that their selection was primarily based on their ability to fulfill their historical mandate with expertise and responsibility rather than past government service.