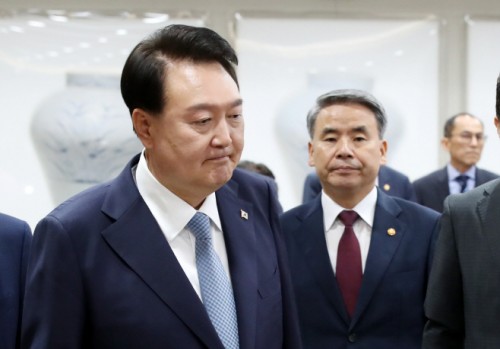 President Yoon Suk-yeol attends a Cabinet meeting at the presidential office in Seoul on Sept. 12, 2023./ Source: Yonhap News
AsiaToday reporter Hong Sun-mi
"If we fail to prevent the spread of fake news created by misuse of artificial intelligence (AI) and digital technologies, liberal democracy and the market will be threatened, and our future generation's lives will be also threatened," Yoon said on Tuesday.
Amid the controversy over the false media interview of Hwacheon Daeyu's largest shareholder Kim Man-bae that was carried out to influence last year's presidential election, Yoon's remarks showed his strong will to eradicate fake news.
Yoon made the remark during a Cabinet meeting held after his trip to Indonesia and India. "Many world leaders also actively sympathized with the threat of fake news," he said.
Just before Yoon's trip to Indonesia and India, the presidential office had expressed strong regret over the alleged fake interview involving Daejang-dong, calling it "unprecedented electoral manipulation."
"It is becoming clear that there has been political maneuvering and fake news in an attempt to switch the focus from Lee Jae-myung to Yoon Suk-yeol in the Hwacheon Daeyu scandal," the presidential office said in a rate statement. "Such political manipulations and fake news pose the greatest threat to democracy, distorting public opinion and rendering the electoral system useless," the office said.
The ruling People Power Party (PPP) also strongly criticized the fake news allegations, calling the interview "carefully planned fake news and first-class murder." The related government agencies, such as the Korea Communications Commission, are expected to speed up its response toward fake news and come up with solutions.
"We decided to cooperate in preparing AI international governance at the G20 summit," Yoon said, adding, "This governance should be established in the way of maximizing human freedom and welfare."
"Digital technologies can develop further only when fair access to AI and digital technologies and safe use of the technologies are guaranteed," he said.