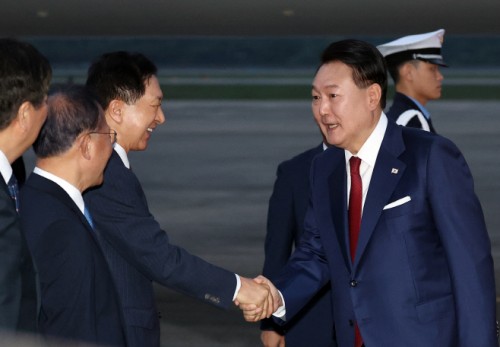 President Yoon Suk-yeol shakes hands with Kim Gi-hyeon, head of the ruling People Power Party (PPP), as he arrived at Seoul Air Base in Seongnam, south of Seoul, on Sept. 11, 2023, after vising Indonesia and India to attend summits involving the ASEAN and the G20./ Source: Yonhap News
AsiaToday reporter Park Ji-eun
South Korean President Yoon Suk-yeol returned home Monday after wrapping up a six-day diplomatic trip to Indonesia and India.
Yoon is said to have taken care of both security and economic achievements during his trip. He also worked hard to secure friendly forces to promote the country's bid to host the 2030 World Expo in Busan, by meeting more than 40 top officials from different countries.
Yoon attended a series of ASEAN and G20 summits in Jakarta, Indonesia, and New Delhi, India, respectively, focusing on expanding diplomatic horizons to Indo-Pacific regions based on strong South Korea-U.S.-Japan cooperation. In particular, he presented the country's specific roles and contribution measures in the Indo-Pacific region in line with its vision of becoming a global pivotal state (GPS).
"The Republic of Korea, the U.S. and Japan have committed to coordinating our Indo-Pacific strategies, and exploring new areas of cooperation, underpinned by their full support for the ASEAN-led regional architecture," Yoon said during the South Korea-ASEAN summit on Sept. 6.
Regarding diplomacy and security, Yoon stressed the "hefty responsibility" that the permanent members of the United Nations Security Council possess in handling North Korean provocation, in an apparent signal to Russia and China. However, he also conveyed his strong will for the restoration of S. Korea-Japan-China cooperation during the meeting with Chinese Premier Li Qiang.
Yoon also established a new cooperation plan with Indonesia and India. At the South Korea-Indonesia summit, he opened the way for South Korean companies to participate in Indonesia's 40-trillion-won project to relocate the capital city from Jakarta to Borneo's East Kalimantan Province by 2045.
Regarding climate crisis and support for Ukraine's reconstruction, Yoon pledged to provide US$300 million to the Green Climate Fund (GCF) during the G20 summit on Saturday, while aiding Ukraine by providing the initial US$300 million in 2024 and the remaining US$2 billion in the mid- to long-term starting in 2025.
"President Yoon Suk-yeol's ASEAN & G20 trip can be evaluated as a monumental diplomacy that has spread South Korea's core values to the world and has taken practical benefits while turning South Korea into a global pivotal state," ruling People Power Party (PPP) spokesperson Kim Min-soo said.