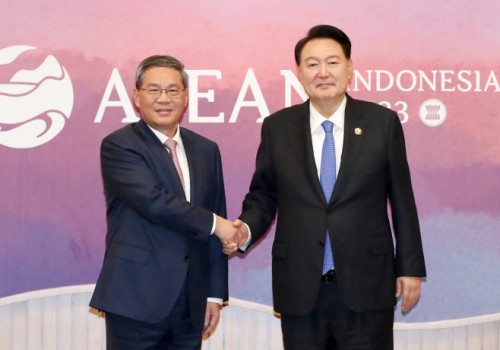 South Korean President Yoon Suk-yeol poses for a photo with Chinese Premier Li Qiang prior to their talks at the Jakarta Convention Center in Indonesia on Sept. 7, 2023./ Source: Yonhap News
AsiaToday reporter Hong Sun-mi
President Yoon Suk-yeol stressed on Thursday that the worsen the North Korean nuclear issue becomes, the stronger trilateral cooperation among South Korea, the United States and Japan will be, during a meeting with Chinese Premier Li Qiang in Jakarta.
"I ask China to fulfill its responsibility and role as a permanent member of the U.N. Security Council. Let us cooperate to ensure North Korea does not become an obstacle in the development of South Korea-U.S. relations," Yoon said.
Yoon met with Li at the Jakarta Convention Center and said, "North Korea's nuclear and missile programs are an existential problem for us," according to Principal Deputy National Security Adviser Kim Tae-hyo.
At the 51-minute-long talks, Yoon said, "In the end, even if there is a problem in the Korea-China relations, we can resolve it by meeting frequently, exchanging and having a dialogue." Li responded fully.
Yoon's meeting with China's top-level official is the first time in 10 months since last November, when he met with Chinese President Xi Jinping on the sidelines of a Group of 20 summit in Bali, Indonesia.
Li, who took office in March, delivered Xi's warm regards to Yoon. "If South Korea and China cooperate and get along as close neighbors, their relationship will become more valuable," Li said.
In response, Yoon asked Li relay his warm regards to Xi, saying he hopes to see more proactive exchanges between high-level officials of the two countries.
Yoon also asked for China's cooperation to enable a trilateral summit between South Korea, Japan, China to take place in South Korea as early as possible. Li said that China will "actively respond" to the suggestion.
"Let us cooperate to build a rules-based international order, which is the basis for the multilateralism and free trade order that South Korea and China support," Yoon said.
"The two countries will be able to maintain predictable economic and investment activities if they can manage their bilateral relations while adhering to rules within frameworks that the international community has been abiding by," he continued.
"Yoon's will can be seen as meaning that if both countries manage bilateral relations well while keeping the rules and practices agreed upon and established in the international community, they can resolve many problems and build trust," Kim explained.